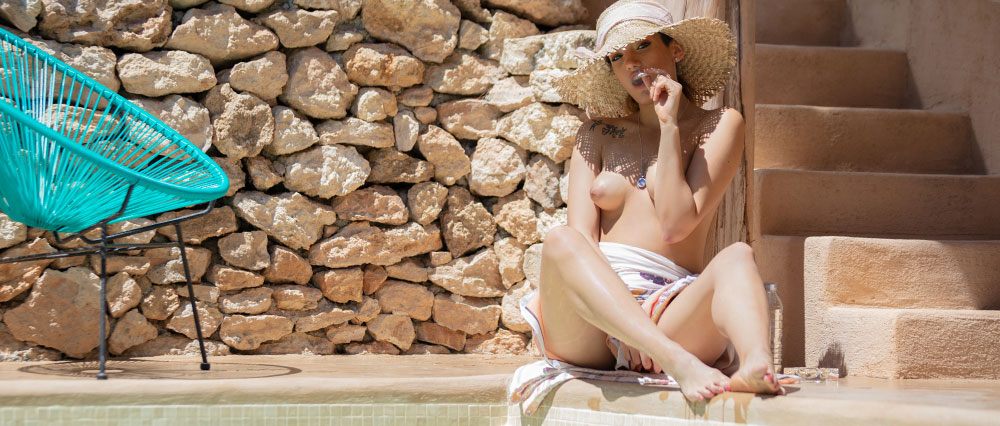 SMOKING HOT - Story
Mutual pleasure enjoyed in this erotic masturbation story
Comment
It was another assignment, another trip away which normally included a certain degree of usual travel chaos.  Flights, bookings, transfers to all negotiate. At least on this occasion, all seemed to go fairly smoothly. Rather than my secretary book my hotel I decided I fancied something much less corporate. I preferred to be far less surrounded by the suited tribe that seemed to fill the rooms of most hotels I frequented. 
My trip allowed for a few down days, a little bonus I thought,  so I opted to arrange my own accommodation in the form of a small, boutique style hotel just out of town bordering the countryside. Something simple, rustic, more to the point the sort of place I certainly wouldn't be bumping into anyone in suits. The type of hotel I could relax in and while away a few easy slow hours to myself and forget the world of boring margins in the world of corporate insurance. 
The place I chose had only a cluster of rooms, so few I couldn't help but notice the personalised key rings that hung at the back of the wooden reception, always a quick indicator I thought. I could see they even possessed the room names carefully etched.
Opening the door to my room I was pleased to see it adequately but modestly furnished, though far from the sort of hotel I was normally residing in. It featured the necessary pieces, simple wooden bed with white pretty cotton linen all set within whitewashed walls, rather reminiscent of Greek styling plus a delightful and charming balcony overlooking the aqua-toned pool below. It was all I needed before flying back to the city. It offered a perfect few days to pretend to escape my normal bustle. 
Feeling far more relaxed I ventured to the bar and the small restaurant that extended around one side of the pool. Taking a seat I  ordered a beer and took a moment to sit and watch the movements around me. It appeared to be a classically family run place, that is with the addition of a few extra helpers, mostly young people in their early 20's I would say. The extra casual staff brought in for the busier periods.
A few beers later and I was certainly getting the feel of the place. Sitting alone you couldn't help but watch the life moving around you, though I felt there were very few residents, most customers were there to just enjoy the delights of the local cuisine in the restaurant. 
What I did notice after my third beer was...
...to read the rest of this story please login or
register
to read the full story free.
Read all about the wonderful author: Miss Frolic
You can also listen to this story