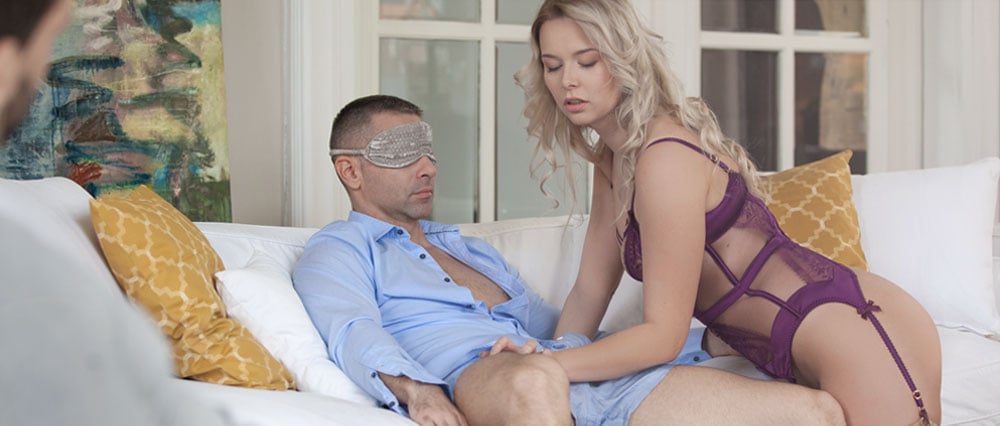 GIVE AND ENJOY - Story
Arousing hotwife story as told by all lovers
Comment
The Husband's Tale
So here I am about to watch my gorgeous wife have sex with a colleague from work.
Yes, I know, it doesn't sound possible.  But, believe me, it absolutely is.
She's just a metre or two away from me and as she glances at me we exchange mischievous smiles.
This grinning woman is the one who brings me tea in bed most mornings.  This is the woman who pledged to forsake all others – for me – just three years ago.  This is the woman who likes a hot chocolate and a hug, with me – of course, while watching a romantic film on rainy Sunday afternoons.
And this cuddly, charming, caring and very cute woman – my wife – is about to take another man's prick into her mouth.
I can hardly contain my excitement.  I feel as if I am super-charged with electricity.  The anticipation of group sex is delicious. Let's face it – what could be hornier than see your very own, beautiful wife fuck another guy?  I expected to feel this. But what I didn't expect was how my view of my wife would change, now that we are on the brink of this most intimate act of sharing.
She looks different to me right now.  I only experience her having hotwife sex close up.  Very close up.  So I never get to see her as I do now, kneeling down, on the brink of a sexual act, with someone else.   And I have never seen her handle another cock before.  It is fucking amazing to see her holding another guy's member, mouth open and about to lick it, which she does just now.  My cock is pulsing and I have never had so much pre-come in my life.  There is a constant trickle running down my shaft and over my fingers. Yes, of course, I am already wanking, even though she has not really started.  I had hoped to wait a bit before pulling my cock out, but I just couldn't.
But my wife doesn't just look different, I sense that she is different.  She went down on him just then in a way she has never done with me.  She nibbled on his cock while it was still in his boxers. That's a first. With me, she would take me straight into her mouth. She'd suck me for a while and then roll her tongue around my glans. But now she is spending ages teasing his prick. She licks it so lightly, then runs her tongue from the base of his shaft right up to his helmet....
...to read the rest of this story please login or
register
to read the full story free.
Read all about the wonderful author: PJA Woode