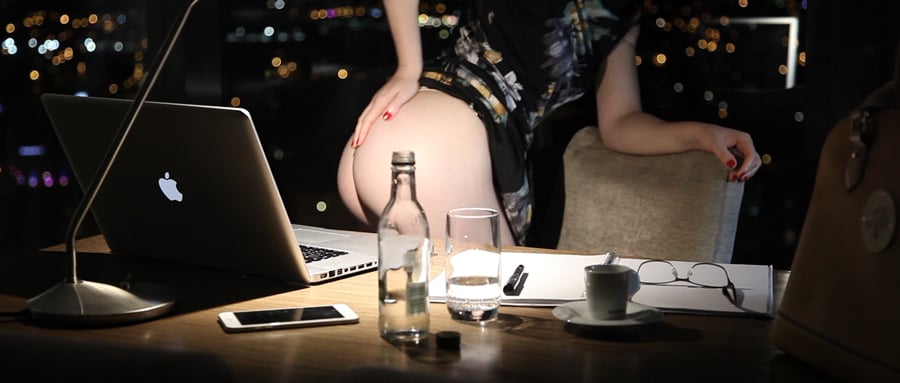 FACE TIME - Story
Couple apart enjoy phone sex and the fun of FaceTime
Comment
When working late and alone we should all take note of this hotwife sex story.
The only company I have with me tonight as I work late, yet again, is my reflection from the floor to ceiling windows and the outside night. My tired eyes are trying to focus on the paper that I am working on to meet tomorrows deadline. But my mind is not on it at all. Well, my body certainly isn't. The yearning in-between my thighs due to absence from my lover has been building all day and I can no longer take it. Turning my attention to the screen on my laptop, I hit the FaceTime app and wait for my call to be answered.
Within a few seconds, his handsome face pops up on my screen. Relaxed and laid back, just out of the shower and ready to enjoy his early evening. Bare-chested and in the perfect position. Just viewing him laying there gives me the yearning to close my thighs tighter together for some kind of release and has my temperature rising and eager to be naughty tonight. His own laptop resting on him as he sips his drink.
"Hi, baby."
"Hello Sweetheart, you're working late."
"I know babe, that's why I'm calling you. I'm in a rather naughty mood tonight."
"Are you now, have you been thinking of me today?"
"Oh I have, all day and my panties are wet just seeing you now."
"Mmm, maybe you should show me how much."
Removing my glasses, I start with a little tease. Dropping my dress from my shoulder to show the bra he bought for me not that long ago. The colour is his favourite and he knows my panties are to match. He doesn't disappoint. Already the laptop has been set the side from him and his towel removed. Ready and waiting for the show I am going to perform for his eyes only. My one voyeur watching me closely.
Standing away from the desk, I slowly hitch up my dress behind me, to reveal my perfectly pale pertness and trace the shape with my gentle hand. Round and smooth for his enjoyment. I know his weaknesses, I know what turns him on.
The arousal that I am watching on my screen makes me want to test my own to see how much damper I am becoming in this little show of mine.
Resting my leg up on my chair, I part my legs and slide my finger in through the side of my panties. Edging the way through my already swollen lips and enter into the opening so ripe for the taking. I waste no time and show him how excited I am as my fingers slip out, glistening with the excitement stuck on them. He presents his own cock and strokes it as I do the same. Both lost in our own play while the other looks on. The rush of heat overtakes my body while he glides his heavy hand along his shaft. Encouraged with silent words I start my strip show for him to excite himself with. Undoing my dress I slip it off to the floor and with a rhythm to music that isn't there, I dispel of my bra until I stand before him and the darkened outside world. I know how wet I am and from watching his reaction, I know exactly where it is taking him. His cock hasn't left his hands, the echo of the depth of his breathing indicates to me how much he is enjoying my show. He slides his extended fingers over his length until it reaches the top where a gathering of pre-cum is forming. I can taste it in my mouth, the stickiness on my lips and the need for him to see my own juice is overwhelming.
Parting my...
...to read the rest of this story please login or
register
to read the full story free.
Read all about the wonderful author: Amelia Hunter
You can also listen to this story