IN CONTROL - Film
Tied and fingered to sensual erotic orgasm
Comment
Do you think about erotic bondage? Does the thought turn you on? How sexually stimulating would it be to be tied and fingered and sensually ravished at the hands of a hot young lover? Restrained at the wrists. Your body semi naked, open and available to be skillfully pleasured by a sexually dominant man who knows how to make you cum to the point your legs shudder deep into your thighs. There is no reciprocal arrangement required, just the consenting act of ensuring your own ultimate pleasure is provided fully before you get up and simply leave. Nothing further said.
For many women that is highly erotic and utterly mind blowing. It is certainly in a lot of sex fantasy videos which many women have enjoyed the pleasure of watching, the aspect of purely focusing on their female pleasure and personal sexual requirements and nothing else. Relinquishing control to another to allow them to fully absorb the deep pleasure, heighten their senses and thereby make the sweet conclusion all the more intense and deliciously mind blowing.
Alexa is that very lucky and beautiful woman who arrives at an allotted time to engage with her lover Juan who provides her with the sensual, passionate and intense moment of kinky sex she craves.
Slipping out of her elegant dress she is ready for their intimate agreement. Wearing nothing but skimpy lace lingerie, her breasts bare and pert, her shaved pussy just hidden by a few centimeters of sheer delicate lace. She is now the woman she wishes to be for the next 20 minutes as she wraps her wrists tightly in the bondage ropes that hang from the metal posts of the bed frame.
Restrained as she is, she is ready and looks across at her lover who is sat quietly admiring the view of her sexy body before him. He knows exactly what she wants and how to provide it. Taking the leather collar from the table he ties it around her neck. Such an act signifies to her their pleasure time is here again as he begins to work his way meticulously over her feminine curves, with his mouth and tongue exploring the softness of her skin while knowingly arousing her with the sense of his touch. Kissing her lips he teases her for a few moments to see how she much she wants him, before he continues with his caressing as his fingers travel south working their way to her sweet pussy.  The pleasure maybe for her ultimately but his big dick can't hide what his mind and body are thinking. This is a time he lusts for as much as she does, a time he takes control of her body and finger fucks her to orgasm.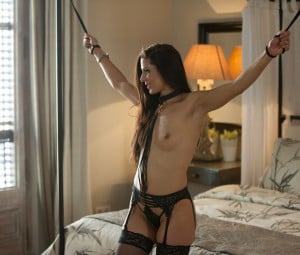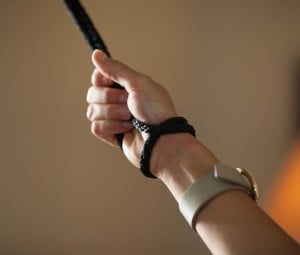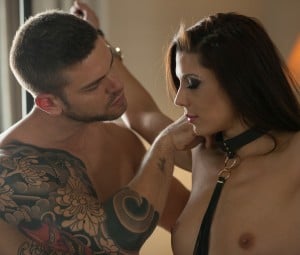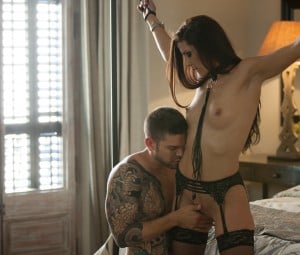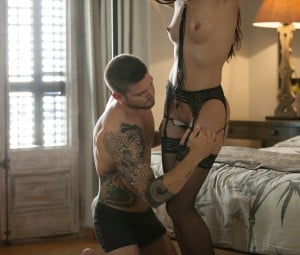 Other Films you may enjoy
Below is a selection of recently updated films and stories, just click on the image to view in greater detail