WAITING FOR YOU - film
The sexual anticipation builds as he waits quietly and naked
Comment
He's waiting. Alone and naked in an unfamiliar room.
You set the agenda and requested a blindfold. Your orders include that he masters some sexual self-restraint, allowing you to take charge of this seduction.
You want to draw out this night together, heighten the moment so you can both develop a hunger that will become ravenous before you are allowed to feast.
The sexual anticipation creates such intense longing in this erotic video. Even before Katarina and Denny are in the same room, their desire is burning.
Planning an erotic encounter means the excitement can be growing and evolving days in advance of the actual event. Fantasising about what you'll wear, what commands you'll deliver, how long you'll tease your lover. All of these things will be simmering in your mind, causing you to be fired up and ready for your sexy rendezvous.
Denny waits barely moving, his commands carried out to the letter. He hears his lover approach, listens to her disrobing, and he can't even bear witness to the unveiling of her body as she has demanded he wears a blindfold.
Ah, but what if it's someone else who enters the room? Just one of the ways your sexual fantasy world fills in and expands on the sexual anticipation, adding in extra thrills so that when the familiar scent of your lover overwhelms your senses, you can relax and let her take out her pleasure—using you as her sexual plaything.
Katarina seduces her lover—caressing and kissing his body, until finally allowing him to touch. He peels off her panties and it is deliciously hot when she takes his fingers into her mouth, sucking and lubricating them before guiding his touch to her needy hot pussy.
Katerina is queen of building sexual anticipation and we are all on the edge watching this beautiful seduction of her blindfolded lover in this sensual porn for women by women film.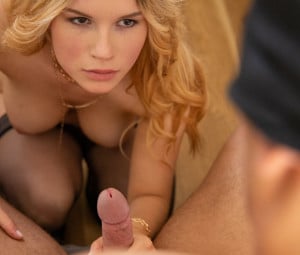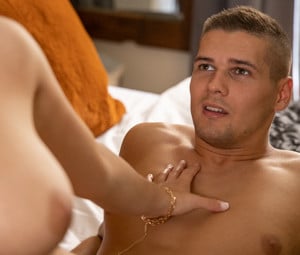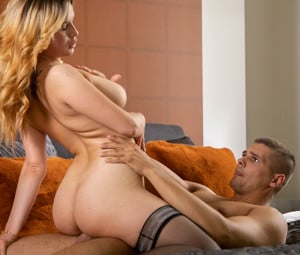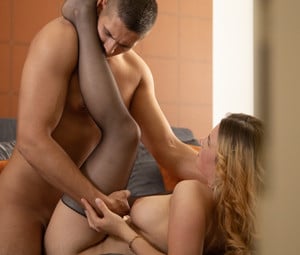 Other Films you may enjoy
Below is a selection of recently updated films and stories, just click on the image to view in greater detail