IN MY DREAMS - Film
Erotically charged threesome in moody sex film
Comment
Enjoy the moody anticipation of Aarron while he sits alone, indulging in a cigar and drink. The lights are low, he's finely dressed and looking sultry and ready to live out a fantasy or two in this threesome fucking video.
Languidly enjoying his smoke, we finally catch a glimpse of what's going on just a few steps away. Two sexy lingerie-clad women cavort in view, teasing and trying to catch his attention while he sits aloof and in control. The women tease further, unable to wait any longer they make their way over to Aarron to begin giving him the attention he so rightly deserves.
The click and slide of leather on leather as the women pull his belt off through the loops and over the creaking of the sublime chair all add to the intensity of the atmosphere building between the three.
This is adoration in the extreme, the women are worshipping Aarron as he sits back and enjoys the performance, starring in his very own threesome fucking video. At last, the women feel they need some of his attention, and Stacy decides she deserves some of that delicious cock action. She slides her panties off and Venera helps guide her slick pussy down onto Aarron's thick dick.
Bodies entangle, and the rhythm of sex increases. Imagine the sensations of having your clit licked by your gorgeous lover while being ploughed by your very own sexy hunk. Juices are flowing, the sounds of sex fill the room and finally, Aarron takes over, finger fucking Stacy hard from behind as she pleasures Venera expertly with her clever fingers.
A long slow ride where everyone gets their satisfaction. We hope you love this ultimate sexual fantasy with this very hot threesome fucking video—what could be more thrilling than sex with both of your lovers at once. Enjoy browsing through more threesome sex videos for more intense multiple pleasures.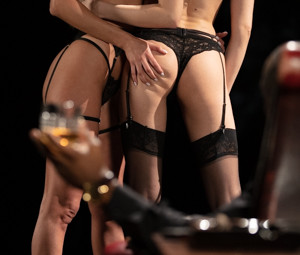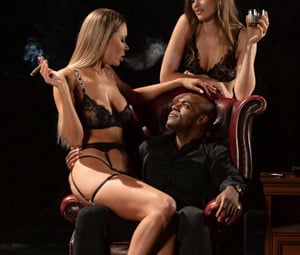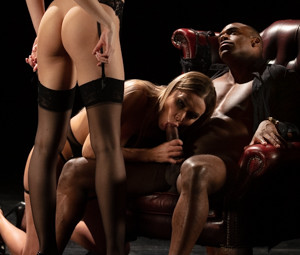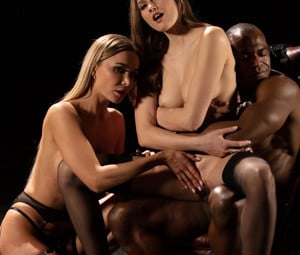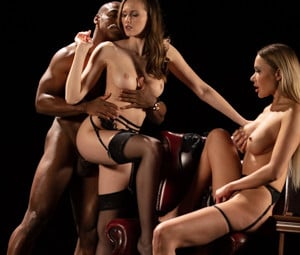 Other Films you may enjoy
Below is a selection of recently updated films and stories, just click on the image to view in greater detail