DRESSED TO PLAY - Film
Sexual females get it on with a strap on
Comment
Have you ever had a sexual encounter where you you've looked and felt hot AF? You are ready, horny and prepared. You've planned, bought all the things you need and fantasised about this moment for weeks, and now the time has arrived and sex is the only thing on the menu.
A provocative sex film with a naughty twist, Dressed to Play is the culmination of all the preparation that goes into fulfilling a very hot sexual fantasy. It's the moment where all the strands come together and the goal of having a girl on girl strap on sex scene is finally achieved.
We meet the two, and from the second we set eyes on them we know they are feeling themselves in their gorgeous alluring lingerie. Anna ramps up the dominatrix vibe with her harness and taped up nipples and it's clear some kink is on the cards. When the camera pans down to reveal a thick dildo poised between her thighs, we can only shiver with anticipation at the thought of what and who is to come next.
Then, the beautiful figure of Antonia steps down the staircase to join her. Oh to have your gorgeous lover wet and desperate to mount you. They get straight down to the serious sexy business of girl on girl strap on fucking. Slathering the fake dick in lube, Anna wastes no time in sliding her cock deep into her lover's pussy from behind.
Imagine the sensation of having your girlfriend's delicious cunt wrapped around your hard rubber dick as you watch her ride, coming to a climax over your own thighs, lube and love juices dribbling and glistening over you.
Antonia keeps coming back for more lesbian sex and  girl on girl strap on play, mounting her lover again and again, taking her pleasure on her lover's dildo.
A super hot erotic film you'll want to watch many satisfying times over.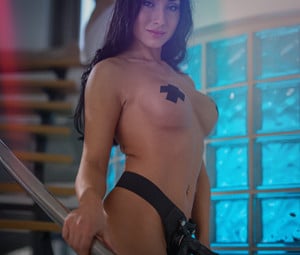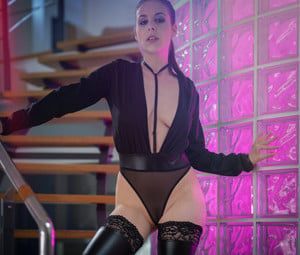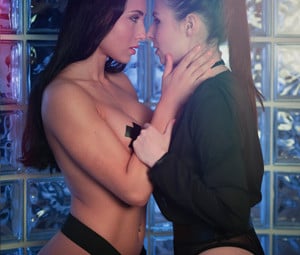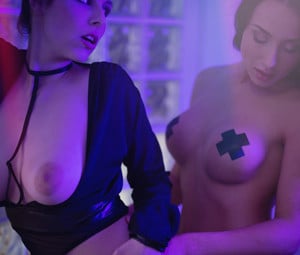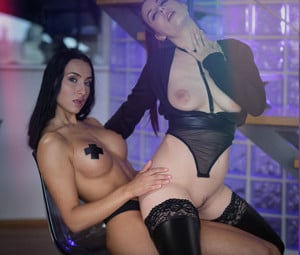 Other Films you may enjoy
Below is a selection of recently updated films and stories, just click on the image to view in greater detail