FLATMATES - Film
Girls get very naughty enjoying hot threeway sex
Comment
We all know how much we share with our flatmates, but what about sharing some horny hot threeway sex when you bring home a sexy cock to enjoy for the evening. Oh yes, one of the biggest sexual fantasies of all time and I know how much you love a Frolicme menage-a-tois.
This very naughty erotic threesome video begins with the gorgeous Silvia Dellai already enjoying the sweet pleasures of a vibrating wand on her clit while bouncing on her man when in walks her gorgeously sexy friend.
Who wouldn't want to join in—listening through the wall to the delicious buzz of your flatmate's vibrating wand. Would you chance a glimpse through the crack in the door with a hope for an invitation to take part in some hot threeway sex? Or perhaps you two had it planned all along, luring an unsuspecting stud to your den to give yourselves and him, the night of your lives.
Venera gets straight into the action sitting astride Steve's face to enjoy a luxurious pussy licking while Sylvia bucks and writhes on his cock, enhancing her pleasure with the wand.
Shot in seductive shadowy blue hues we are tantalised with highlights and sounds of people fucking in the moonlight, enjoying their bodies while riding each other senseless in a glorious night of hot threeway sex.
The girls are deeply into each other as they ride their man, tearing their orgasms from him while they feast on each other above. Could you handle such a menage? Being used and fucked while your lovers take their pleasure.
Or just imagine, riding your man while he eats out your girlfriend, then as you lean back—his cock still lodged deep in your dripping pussy—your girlfriend falls forward and licks your clit, completing the delicious circle in your hot threeway sex adventure.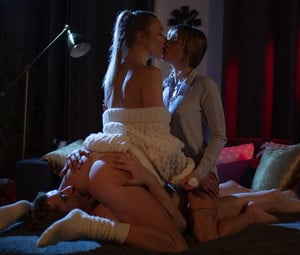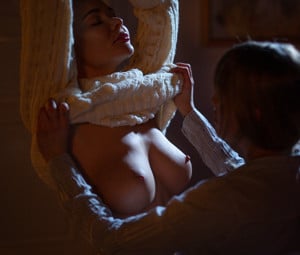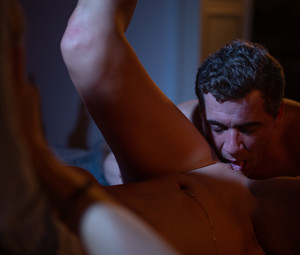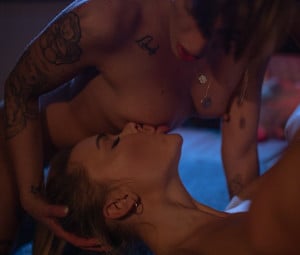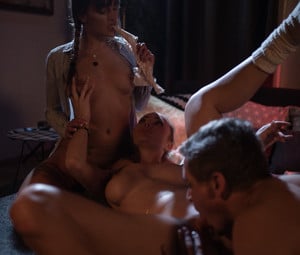 Other Films you may enjoy
Below is a selection of recently updated films and stories, just click on the image to view in greater detail