CLICK CLICK LICK - Film
Beautiful photographer's muse becomes a seductive temptress
Comment
Photography is about seducing the camera—allowing the lens to see and capture the beauty before it. As a muse, you knowingly play with your inner sexiness as you reveal your uninhibited side, exposing a little more with each click of the shutter. As the photographer directing the sexy action, it is up to you to get the most out of your subject. Teasing her, empowering her, showing her just how gorgeous she is. Making her see herself as others see her will bring you the images you are craving… just beware of the consequences of flirting so brazenly while at work!
In this beautiful studio fuck sex movie, Leanne provocatively plays to the camera, her eyes burning into the lens as she stages her moves deliberately. Letting her hair swirl and fall around her face while she makes love to the camera—she knows her inner goddess is on fire as Silvia clicks away capturing it all on film.
What could be more wonderful than knowing you are looking hot as hell? And when the photographer comes to show you the camera screen, every single shot confirms it. You are stunning.
With heightened confidence comes that inner spark—you feel electricity burn from the lens and you chance a thought… could this day end in a hot studio fuck?
Well, the chemistry is absolutely on point and these women just can't hold back their attraction a moment longer. Leanne takes her chance when Sylvia comes over to adjust her hair, and tips her face up for a kiss.
And that spark of lust ignites into a full fiery furnace under the heat of the atelier lighting. A perfect sex movie of two gorgeous women enjoying a tantalisingly well-lit studio fuck.
In this sexy erotic lesbian porn film, there will certainly be more than a little overexposure going on in these contact prints.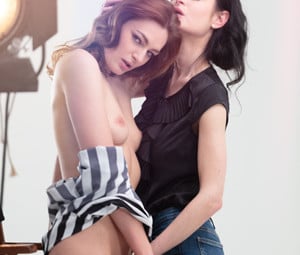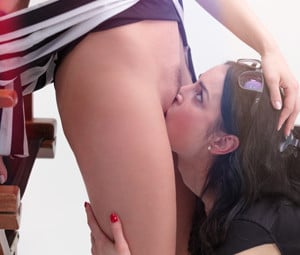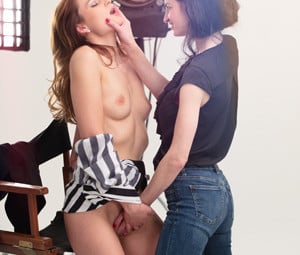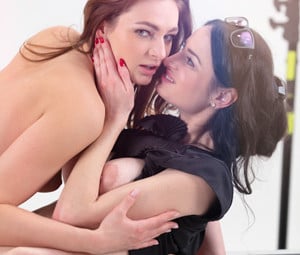 Other Films you may enjoy
Below is a selection of recently updated films and stories, just click on the image to view in greater detail