SMOULDER - Film
Busty blonde in masturbation tease
Comment
Girls have a huge skill they can deploy, playing with their body in a masturbation tease can gain the focus of any man's attention. Even those very cool men that give very little away such as our hot guy porn video here. However, there is something often mysteriously sexy about a brooding hot man. Possibly due to the fact we may not be able to really understand what is going through their head. They just give a mysterious look that we try to comprehend. Here we certainly have all of that in our film Smoulder, with Maximilian sat pensively watching Victoria from his chair as he sits semi-naked with fabulous abs, that alone can arouse so much in us girls.
And he did arouse our girl to want to play and tempt him, flashing her body, in this female masturbation tease. Touching herself and fingering her wet pussy, showing just how gorgeously sexy and naughty she can be. This sexy film though is subtle in its nature and focuses much more on their quiet cool chemistry that bubbles between them. They don't require physical contact initially, as their presence, sexual demeanour speak for their themselves. What they relish in is showing each other how they delight in personally pleasuring themselves to stimulate and fuel each other's carnal desire for passion.
Dressed provocatively in sheer lace cream lingerie emphasising the fullness of her ample big tits and curvaceous body Victora flaunts herself and her female charms before her man in this hot guy porn video. She wants to turn herself on as much as arouse his thoughts watching her do so. Watching for his reactions she explores her own body, feeling its shape and moving before him, sliding her hands and fingers into more intimate areas to arouse and play. Heightening her own pleasure performing her masturbation tease before him, she slips her fingers into her pussy lips and enjoys the stimulating sensation grow, swelling and moistening her shaved pussy as he continues to watch giving little away other than masturbation his own cock that hardens as he gets more turned on by every move she makes. It's a film that focuses on the sexual enjoyment that can be had from masturbation with your lover.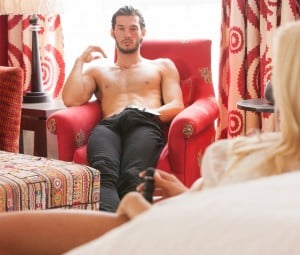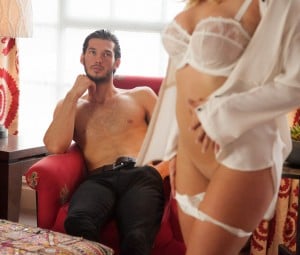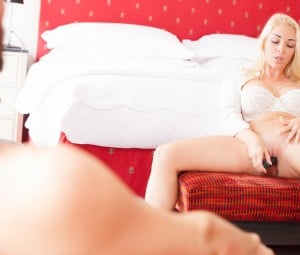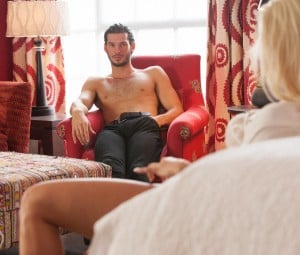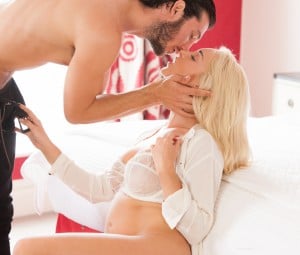 Other Films you may enjoy
Below is a selection of recently updated films and stories, just click on the image to view in greater detail