SUGAR PINK - Film
Sensual pleasure in the kitchen as playful girls get sexy
Comment
Sugar pink indeed! Feast your eyes on the sweet colour of love as our playful girls get sexy in the kitchen. Adorned in equally toned fine sheer lingerie in shades to complement, our girls are anything but prepared for culinary work as they whisk up some creamy soft delights. The mood is fun and frivolous, with a subtle kitsch sense of romantic cooking that is more about their cheeky feminine pleasures and erotic tease.
Their perfect pink pouts draw us in as they lick the sweet cream first off the whisk then off each other. Lips collide into sensual feminine kissing before hands start to roam and mouths follow suit. Fingers slip naughtily between delicate lingerie and smooth skin, exposing nipples for tongues to encircle and feast as our playful girls get sexy.
A delicious and delectable visual treat, you'll be licking your lips too at the vision of these beauties entwined in each other, peeling off their candy-coloured panties to reveal peachy smooth buttocks. Who wouldn't want to take a bite?
Eyelids become hooded, lipstick is smeared, and the countertop becomes sprinkled with sweet feminine pleasures as well as icing sugar. Ramping up the passion, we see these playful girls get sexy right there on the cool of the marble counter. Tantalising and teasing, we shiver in anticipation as the girls' playfulness turns moody and sensual with the introduction of a slick glass dildo to take things to the next level.
Watching beautiful, moist pussy lips envelope the sex toy has our mouths watering yet again in this deliciously sexy and orgasmic female adventure.
Nipples whisked into stiff peaks and pussy lips kneaded to buttery perfection, this really is one baking lesson you do not want to miss. It seems the orgasms never end! If only food preparation and cooking were always this enticing…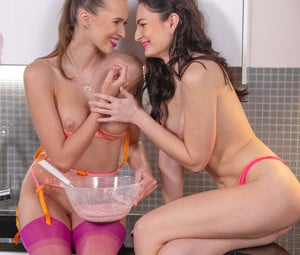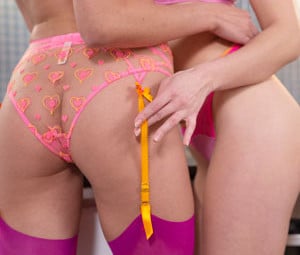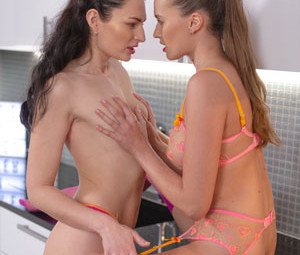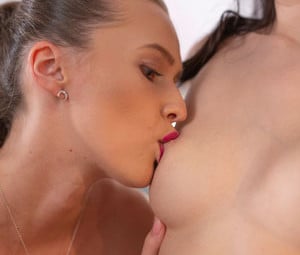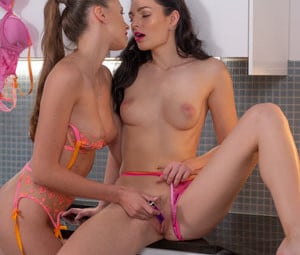 Other Films you may enjoy
Below is a selection of recently updated films and stories, just click on the image to view in greater detail