PETITE PERFECTION - Film
Holiday lovers share a passionate breakfast fuck together
Comment
Holiday lovers share a passionate breakfast fuck together 
A beautiful holiday porn video of a real lovers' outdoor fuck. This romantic adult film opens with the tropical view of Jimmy Bud sitting at an alfresco breakfast table reading the Financial Times. Relaxed and enjoying the morning shade, he lifts his newspaper as Mina approaches down the white cobbled steps to join him. 
Dressed in a beautiful lilac dress, Mina sits across from Jimmy, who breaks out into a warm smile at the sight of her. Light spears through the greenery surrounding them in the dappled early sun as they chat together in Spanish. The seduction begins as Jimmy offers Mina a taste of delicious watermelon, and she takes a bite, the juices dripping from her lips. Clearly, in love with each other, Jimmy moves behind Mina, caressing her shoulders and freeing her delicate neck for a massage as he gently lifts her hair away.   
The sexual connection is tangible as the couple settle on the basket chairs, and Jimmy's sensual touch makes it to his partner's legs and feet. This is not fast and furious holiday porn; this is an erotic scene of how great sensual lovemaking can be when you have the time to savour every moment. Jimmy is utterly adoring of Mina's body, stroking his fingertips over her bare legs as she leans back in the soft seating, relishing her morning welcome. 
Enjoying the pleasures of Jimmy's wandering hands, Mina begins to touch and caress his thighs. She removes the distance between them, pressing her body closer to his. Then leaning forward, she straddles Jimmy's waist rubbing her body over his fabric shorts. 
Listening to the hum and natural movement of their bodies grinding together, Jimmy begins kissing Mina's neck and throat as she tangles her hands into his hair, pulling him into her. Movements become more frantic as the air shifts to a desperate, loving need to take each other. 
A sexually romantic holiday porn film, we hope you enjoy watching the gorgeous Mina Moreno and Jimmy Bud sizzle together in their delicious tropical surroundings.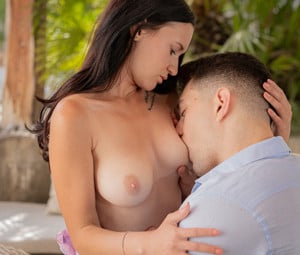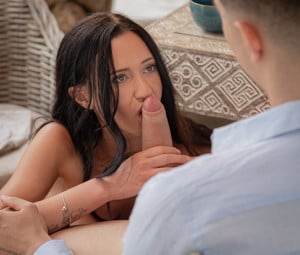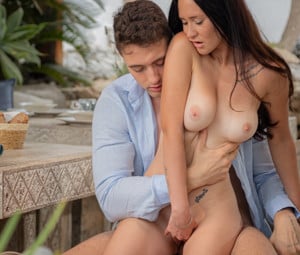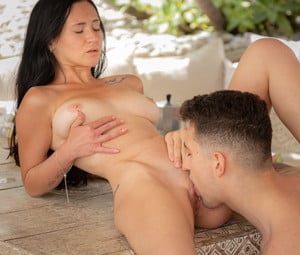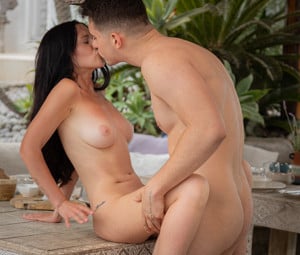 Other Films you may enjoy
Below is a selection of recently updated films and stories, just click on the image to view in greater detail