KINKY FUCKS - Film
Couple have a kinky fuck with a dominatrix
Comment
If you have fantasied about being sexually dominated, you are most certainly not alone. Almost as many men as women find the thrill of sexual domination a huge turn-on and fantasise over exploring certain BDSM acts. More and more of us want to engage in some heightened thrills, and as we become more sexually progressive, so too do we want to build on our sexual interests.
Explore a world of new pleasures with our couple George and Julia in this kinky fuck erotic movie.
We watch and wait along with Domina, our couple's Domme for the evening. She runs her hands down her latex-clad bottom and explores her dungeon ensuring everything is perfect for a kinky fuck.
Finally, the couple arrives and Domina gives them the same appraisal as her sex room, caressing and inspecting them as they sit submissive and compliant under her gaze.
The couple share a passionate kiss as they await their fate at the hands of their mistress. A few soft swipes of the flogger set the tone and we realise this really is to be a kinky fuck as Domina swaps the kid leather tassels for a smart riding crop.
Who will be the first to feel the delicious bite and sting of her implements? We must wait alongside the two as they are shown the array of their Domme's tools and ropes.
Do they have a choice in the matter? Or does Domina decide just how much of a kinky fuck they can take?
Hands roaming on flesh, silent commands compelling, this truly is a film to set your desires alight.
Taking them on a journey into extreme sensation, visiting this Domme was clearly an inspired plan as when the action gets going, everyone has a part to play in the hedonistic pleasures administered and received.
And best of all… George and Julia aren't the only ones being teased in this two-part erotic adventure.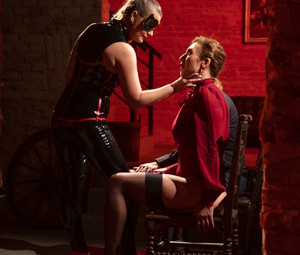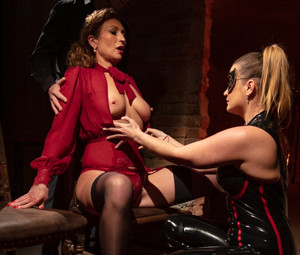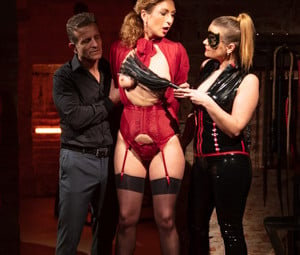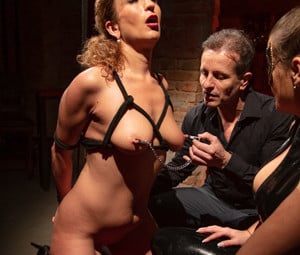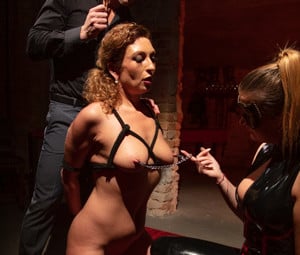 Other Films you may enjoy
Below is a selection of recently updated films and stories, just click on the image to view in greater detail