WOODLAND - Film
Intimate connection of lovers in an outdoor naked mmf
Comment
Let us take you on a journey of pleasure and deeply sensual lovemaking. A journey that brings with it intimacy, love, connection and ultimate sexual pleasure and meaningful desire. Desire of lovers to ensure the richness of sexual experience is both shared and consumed in this deeply erotic and sensual outdoor naked mmf film.
Imagine one day walking through the woods, just like Red Riding Hood, you know something's going to happen, you've planned it out but not all of the details. You've watched sex fantasy videos, you've dreamt of taking new lovers, indulging in cheating wife sex videos, so it's all arranged. Could this be the moment you feel the touch of not one, but two hungry men, cocks in hand as they watch you approach?
Our leading lady is lucky indeed as she picks her way through the forest, on high alert for any sound of leaves rustling or twigs cracking—anything to signal that her lover or lovers are close. She can only imagine what might be in store for her, will they be waiting naked or will she have to peel off layers of clothing. Oh, the anticipation of being involved at last in an outdoor naked MMF threesome porn.
Or perhaps you imagine yourself in the role of her man—lying in wait, watching her carefully step her way towards you, knowing the tasteful threeway porn surprise you have in store will drive her absolutely wild. You lead her to your friend—rope in hand and blindfold over her eyes to heighten the erotic anticipation.
You've been waiting for this moment for so long and as you gently bind her wrists and tie her around the tree, you prepare her for the thing you've both been craving and fantasising about for so long—a sensual outdoor naked mmf fucking frenzy.
You finally get to whisper in her ear and listen to her whimper as another male presence approaches and two sets of hands caress your lover.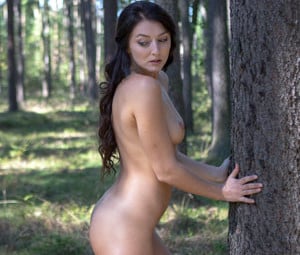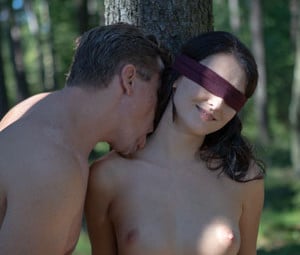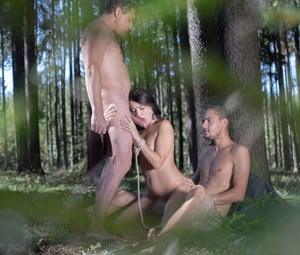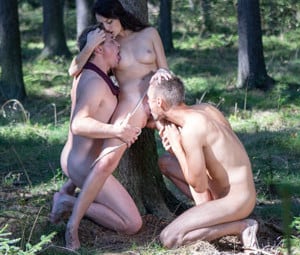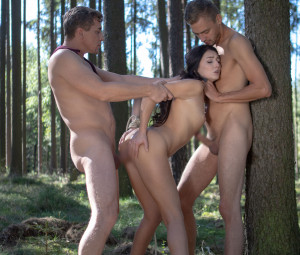 Other Films you may enjoy
Below is a selection of recently updated films and stories, just click on the image to view in greater detail