SEA SEX - Film
Naked girls enjoy some frisky fun times down in the sea
Comment
So this is what happens when you have two naked girls frolicking around in the surf when the cameras start rolling. Oh, the playfulness and laughter erupt as they cavort with such carefree openness together. They frolic in the surf with their bodies free of the restrictions of all clothing, baring their natural bodies to the elements.
There is such a delicious naughty simplicity to this erotic video, just our naked girls Anya and Julia enjoying the fun of each other in the sea.
Imagine the thrill of holidaying with your friend and lover, getting to spend every minute cavorting together and only having to make plans for nothing more heavy than that next kiss.
Anya and Julia display the most exquisite example of totally uninhibited abandon as the play in the surf, fooling around and teasing each other. As they frolic kissing each other, a palm reaches to a breast or buttock spreading cheeks apart to feel the juicy places between.
These two naked girls can't stop giggling as they explore each other's bodies pressed up against the rocks with sea foam splashing around and adding to the excitement.
It's not long before fingers slide into pussies writhing and riding against each other when the urgency for pleasure becomes too much.
Sometimes all you need is a good laugh with your bestie while you play and tease, knowing exactly how to turn each other on and make each other come by the sea.
The sexy sounds of whimpering arousal are obscured by waves hitting the rocks, each girl rubbing the other's clit with pinpoint accuracy until they both find glorious orgasmic pleasure. The sea spray combines with their own as they come hard into the waves.
What a glorious way to spend an afternoon, just blissfully indulging in some innocent girly fun and delicious outdoor sex. Sea shells down by the sea shore indeed and we love it!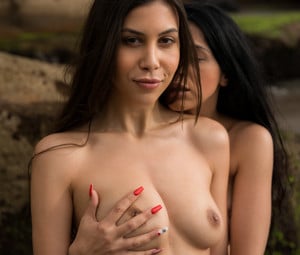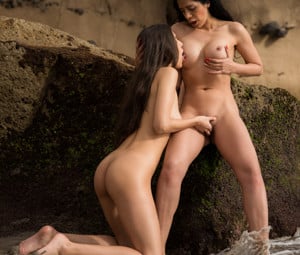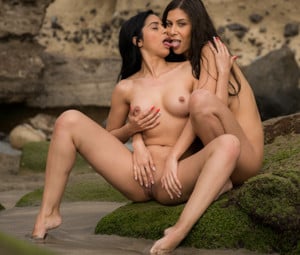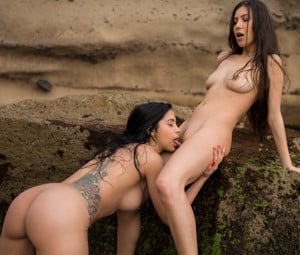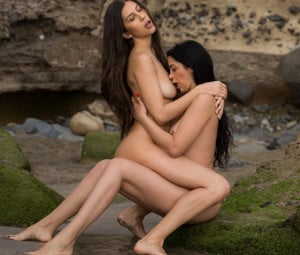 Other Films you may enjoy
Below is a selection of recently updated films and stories, just click on the image to view in greater detail