AWAITING - Film
Erotically charged lesbian BDSM film
Comment
As the erotic movie opens our eyes are drawn immediately to a woman, naked, with her hands restrained in leather cuffs as she waits alone in the smoky darkness. As the camera draws closer, more details are revealed.
Sofia's feminine mouth is clamped around the hardness of a ball gag, her lips glistening with a slick line of moisture, while her body is held perfectly stationary as she stands… awaiting her mistress.
And we wait with her, the sexual anticipation building in our minds as we absorb the vision, imagining the moments to come in this erotically charged lesbian BDSM film.
This is clearly something Sofia has been looking forward to and it is hot and exciting to see her smile when Venera, her mistress for the scene, comes to play.
While Sofia is naked, Venera has dressed up for the occasion in her erotic finery. A feathered mask obscures her identity and beautiful lingerie hints at her kinky side.
One of the most charming things about this lesbian BDSM film is the interaction between the domme and sub—there is fun and a light-heartedness that is sometimes missing from harder BDSM films. We love to show a side of this form of kink that isn't often portrayed: kink is fun! You can laugh and be whipped and restrained, commanded to perform all sorts of sexual debauchery, but you can also show you're enjoying yourself.
You're allowed to have fun while you get spanked, you're allowed to laugh through your ball gag. Sex is a joyful celebration of turning your desires and sexual fantasies into realities and this lesbian BDSM film does just that for our two gorgeous lovers.
It is extremely sexy to watch the atmosphere go from giggly hilarity to a hot hard series fingerfucking with the flick of a wrist, witnessing several orgasms.
And that's what we love most of all—getting to watch sex in all its explicit twists and turns leaving us sated yet hungry for more.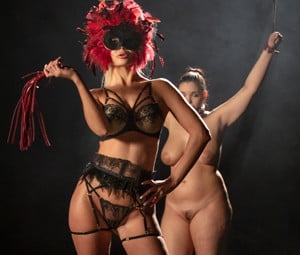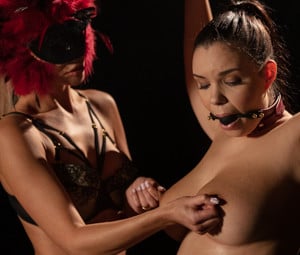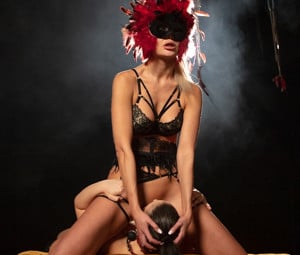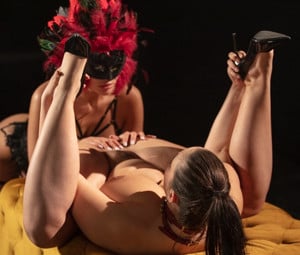 Other Films you may enjoy
Below is a selection of recently updated films and stories, just click on the image to view in greater detail