SKINNY DIP - Film
Sensual illicit thrill of naked skinny dipping
Comment
There is a sensual illicit thrill of being naked and skinny dipping, stripping off your clothes to bare your body, enjoying delicious freedom while you cavort boldly about in the water. It feels so natural to be nude yet so daring to be bare; exposed to the elements gives such an erotically liberating sensation that can undoubtedly lead to feeling horny.
But why not experience such simple gleeful pleasures as our girls Nancy and Vanessa decide to do in this natural and soft sex girl on girl porn scene.
Beginning with the sun glinting through the perfect ocean, we are treated in the beautiful erotic movie to the beautiful vision of Vanessa gliding naked through the water as she enjoys her solo skinny dip.
She breaches the surface to smooth back her hair as the salty seawater slides down her full big breasts. The swell of the ocean current carries her and us into sexy mermaid fantasies. From the beach house her lover Nancy is eagerly awaiting her return, surely thoughts turn to sex and we all anticipate the thrill of being able to witness some glorious girl on girl porn.
As soon as the water nymph returns, the girls can't keep their hands off each other, living out their passion and fantasies in the perfect setting. It's not long before everything is stripped off and fingers are fucking pussies, lips and tongues wrapping around breasts then clits, feasting on every part of each other. What a joyous way to enjoy a lavish date at the beach house wrapped up in the salt kissed skin of your lover and giving yourself over to pure unashamed sexual pleasure.
A stunning girl on girl porn film for you to watch and let your cares drift away on the gentle waves lapping at the shore as you indulge in this horny visual treat.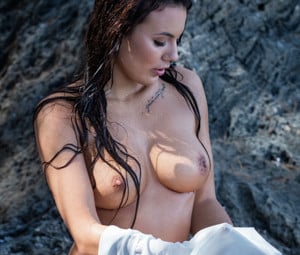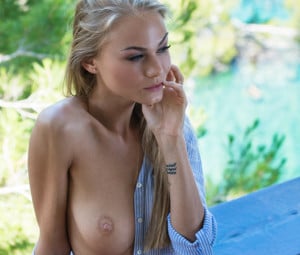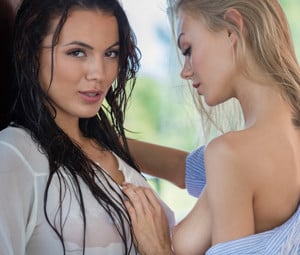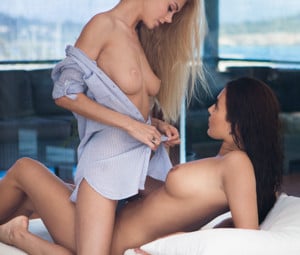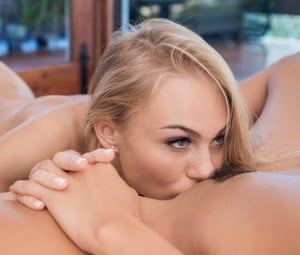 Other Films you may enjoy
Below is a selection of recently updated films and stories, just click on the image to view in greater detail