STORY TIME - Film
Girlfriends enjoy a sensual afternoon threesome together
Comment
Sprawled out on the floor, pastel patchwork quilts and luxurious soft fabrics set the feminine backdrop to this gorgeously erotic all girl threesome film. The opening scene combines the soporific sexy sound of a woman reading to her friends with atmospheric cinematic music, which hints at the building of sexual tension.
With close-ups of lips reading and fingertips wandering over silk, this beautifully sensual porn video truly explores female seduction. The panned-out shots from above show their gorgeous bodies languidly overlapping each other; listening to the stories adds loving layers to this multi-dimensional sexy take. What starts out as a cosy afternoon with friends slowly slides into the seduction of an all girl threesome.
Hands wandering, a passionate haze flows between the girls as they begin to kiss, their fingers dipping under negligées and spread thighs. Tanned legs stretching out and the tell-tale signal of toes pointing in rapture set our senses on high alert for what is to come.
The slow, almost tentative beginning to lustful proceedings has us oh-so-ready for the moment when the women unfurl, opening their minds and bodies to what is about to happen. As pussies, breasts and nipples are revealed and their hunger exposed, the girls start to fuck in this sexy all girl threesome. Moist lips pucker onto pink rosy skin, heads dip low over delicately shaved pubic hair, inhaling the fragrance of an aroused lover. The women lick, suck, kiss and adore one other, falling into a frenzy of finger fucking and pussy eating—winding themselves to a delicious state of ecstasy.
The reading long forgotten, the girls' lazy afternoon takes a truly wanton sexy turn, with fingers filling and pumping those happy feel good orgasms around their bodies. Love hormones flowing and lips kissing, the girls enjoy the afternoon in a state of shared female self-love.
A beautifully filmed all girl threesome sex video, we hope you enjoy watching this hedonistic lesbian fantasy.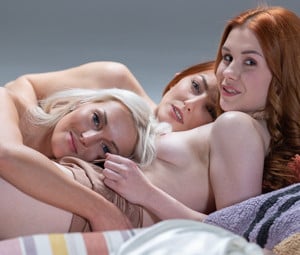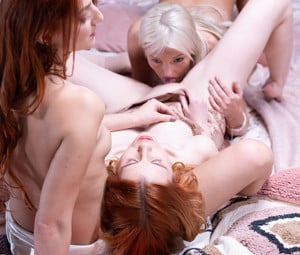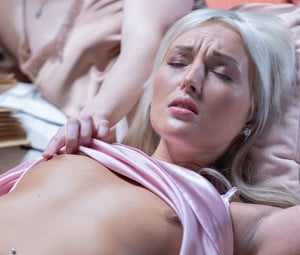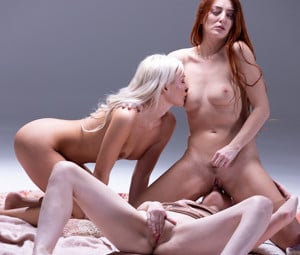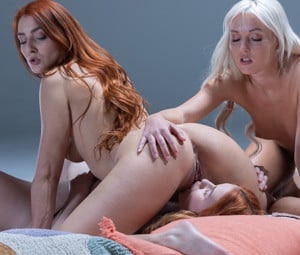 Other Films you may enjoy
Below is a selection of recently updated films and stories, just click on the image to view in greater detail