MYKONOS HEAT - Film
Horny fun as bikini wearing girls enjoy hot sex in the sun
Comment
This is a summertime feel-good factor erotic video,  as we cast our minds to hot sex in the sun and horny fun. Blue skies and hot Mediterranean heat beat down on the whitewashed walls. Bright skimpy blue and white bikinis, tanned bodies and sexy hot vibes fill our screens as the music beats out. Oh yes, in an instant, we are carried back to those glorious summer days. Hot, carefree moments where our minds are relaxed and filled with thoughts of lustful outdoor sex and pleasure.
As the erotic film starts, we see Cherry soaking up the moment; the heat no doubt playing with her horny side. She is dressed in her bikini, her beautiful body on show as she returns to her girlfriend sunbathing on the roof terrace. With little else to do than enjoy themselves.
Cherry is very quickly the instigator, encouraging her girlfriend's interest as she begins to plant horny sensual soft kisses. Her hands slip gently into her lover's small bikini bottoms to feel, arouse and stimulate. Loving tender kissing soon turns to more intense desire as horn levels significantly increase in the heat of the sun.
Watching two lesbians having hot sex in the sun is intoxicating at best. Their bodies roam and caress, with their minimal clothing removed completely. Gentle touching quickly gives way to meaningful fingering and focused clitoris stimulation. Their fingers search and explore, directly stimulating the clitoris to help encourage orgasm pleasure. They nestle their faces between thighs so tongues can engage in some very sexy oral sex. Mouths are invaded, while lips intently suck, lick and arouse the feminine folds of their vulvas. Bodies are savoured and satisfied as both girls are intent on each other's pleasure and reaching a point of sexual release, building up the orgasm within each other.
This film offers hot natural chemistry of nude blonde lesbians having sex and the understanding of real pleasure of girl on girl sex.
For other hot girlie pleasures, check out our selection of lesbian porn.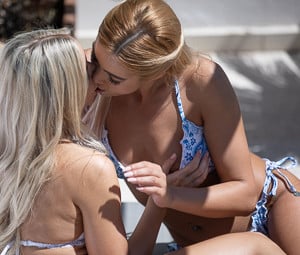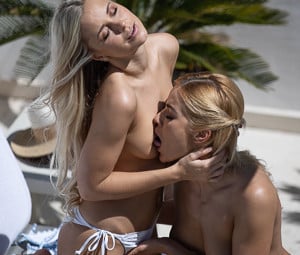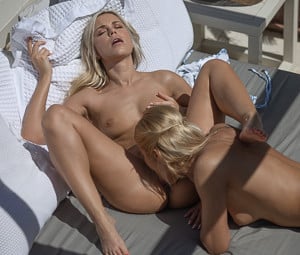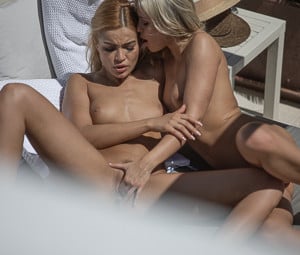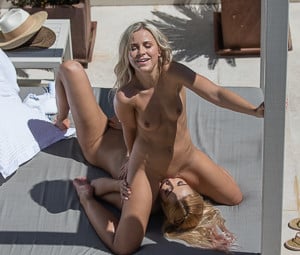 Other Films you may enjoy
Below is a selection of recently updated films and stories, just click on the image to view in greater detail