PEEP SHOW - Film
Solo female orgasm enjoyed during a sexy teasing personal show
Comment
Just the very first bars of the intro we know we are in for some teasing delight in this erotic movie. The moody, sleazy notes ring out as we enter into a sexy world of voyeuristic pleasure. Captivating our eyes is the lovely curvaceous Sofia as she sweetly tempts us to watch her private show. She is lying languorously on her bed, filling her pretty delicate embroidered lingerie, her big breasts full, soft and playful. She knows the sexual interest she is creating as her stranger walks into the room.
Sat poised immediately before her; the stranger has come to enjoy the private show she is there to offer. A show of seductive female masturbation, a gentle solo female orgasm played out just for him and his sexual desire. Nodding with pleasure and encouragement as she proceeds to arouse and delight her solo audience of one.
Running her hands over her body, she cavorts gently keeping her eyes intently focused on her voyeur. Enjoying the sensation of her hands over her body, she tempts the vision further as she playfully fondles her bountiful tits. Her hands roam, exploring her body before moving between her legs where she focuses more on sexual interest.
Her skimpy thong squeezed together, slices up between her feminine folds. She allows the fabric to build friction between her labia lips, turning her on as she enjoys the engagement of masturbating before her stranger. Slipping her thong off, she starts to build the pleasure of her arousal. Fingering her slit, she rubs and massages her moistening pussy, focusing on her clitoris and the pleasing sensation it offers. Her fingers become more rhymic as they slip and feel in tune with the sexual pleasure they encourage. Losing them as they slip deeper into her slit.
Wanting to reach her orgasm, she changes to sex with vibrator. A small pebble style clitoral vibrator offering intense vibrating pulses, heightening the sensation of more than her fingers. Our voyeur still sat watching, quietly before her, as she pushes herself to grasp her orgasm and enjoy the waves of pleasure that flow. Her personal solo female orgasm show over.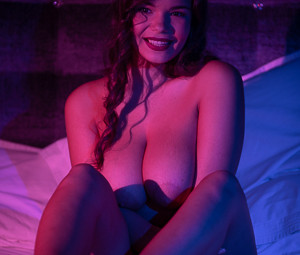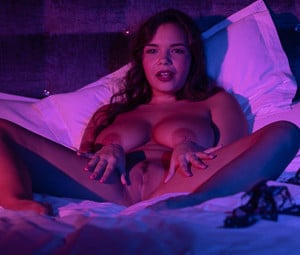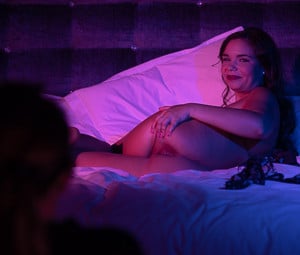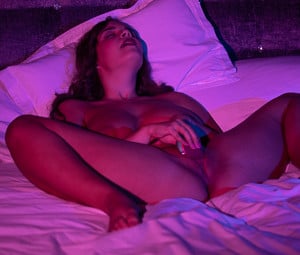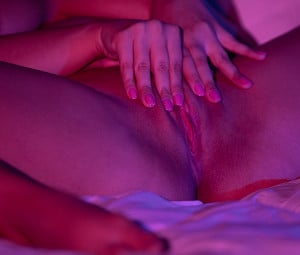 Other Films you may enjoy
Below is a selection of recently updated films and stories, just click on the image to view in greater detail