Believe in the benefits of a cum facial…
Being in the naughty erotica world as I am, and filming so many gorgeous films featuring sex, the question often asked by the men when on set is, "so Anna, where do you want me to cum?"
I thought it was right that we should think not just in terms of what's best for the film, but what is beneficial for us girls too. In which case there really is only one place, yes… on our face!
No this isn't just a horny act to satisfy the boys, the beauty benefits of semen on our face is a known fact. Semen is incredibly good for keeping our skin young. The well-known actress Heather Lockyear, who looks fantastic in her 50s, admitted within an interview last year to using such a product on her skin as part of her skincare regime.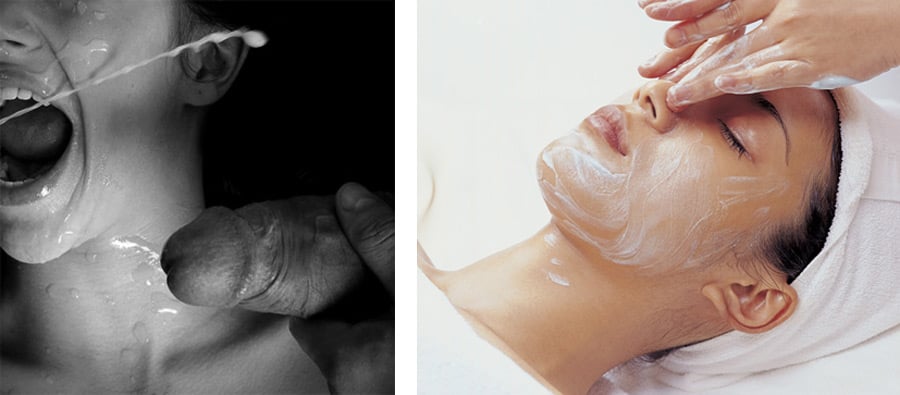 When you think about it, your lover's semen is the freshest cell therapy you could get your hands on. It is full of recognized proteins and valuable minerals, which are renown for reducing the aging process. Semen actually contains proteolytic enzymes, which are designed to break down proteins. In theory therefore when applied to the skin, these enzymes can help break down uneven, older, sun-damaged layers of skin allowing the skin to feel and looker smoother and younger. However it is worth noting that regular or daily application is required to achieve good results and that being a body fluid it will not remain stable outside the body for long. So after some active fun in the bedroom my advice is to rub it into your skin and leave for approximately 15 mins before washing it off.
So fresh is best, and a regular application is required, ensure you have a reliable male who maintains a healthy diet with lots of stamina to keep you well and truly supplied. But remember, the fresh stuff is free! Let me know how you get on? Would love to have your comments to share.