Have you ever felt that thrill running down the back of your neck when you've done something a little naughty and got away with it? Like perhaps you didn't wear your knickers to work, or 'forgot' to close the curtains while you were getting changed. Maybe you didn't put the money in the meter at a parking spot but were somehow disappointed not to see a ticket. Did you watch a saucy erotic movie on your phone on the tube, not quite hiding the screen?
Did you leave the lid off the toothpaste? And on and on… did it ever occur to you that you want to be caught? You are desperate for someone to dish out a punishment for being so naughty…
Oh, the thought of a gruff commanding voice telling you to bend over. A hand caressing your skirt as palms skate across the fabric straining over your buttocks. The shiver of anticipation as the warmth of the touch leaves you, just long enough to make you ready to administer a short swift sexy spanking.
What if there's no one around to punish you? What if you have to reach around and spank yourself—after all, only you know how truly naughty you've been.
Spanking and the fantasy of corporal punishment can really hit those sexy spots in a relationship. The characterisation—who gets to spank who, what constitutes a crime so naughty that a punishment is in order. It's a great way to role play and get your juices flowing. Nothing quite heats up a sensual moment than the nice threat of loving dominance. From the playful slap on the bottom, as you pass to the full-on over the knee encounter, a good sexy spanking might not be far from your mind when you've been doing these micro aggravations day today.
So you've been caught red-handed and now your reward is to be thoroughly red-bottomed! Just how do you and your partner begin to make a sex fantasy video come alive in a sexy, authentic yet caring way?
Frolicme caught up with one of the best-loved BDSM blogging and spanking enthusiasts, Kayla Lords for some hints and advice on how to get the most from your sexy spanking encounters.
"Always start light and slow. It's one thing to want a spanking, and it's quite another to feel yourself be spanked for the first time. If you're giving the spanking, pause between each smack and check-in with your partner. Rub your partner's skin to soothe the pain. Ask if they're ready for more or for something more intense.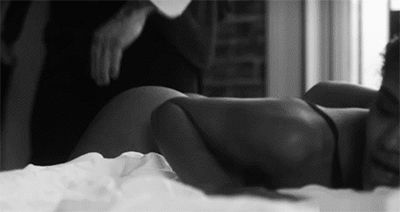 When they're ready to increase the intensity, you don't have to hit harder. Sometimes striking the same place over and over again is enough to turn their skin from pink to red (if that's what you're going for) and to increase the pleasurable pain. That saves the spanker's hand while ratcheting up the intensity.
Vary the intensity of the strike and the implement you use. If you move from a bare-handed spanking to toys (which isn't required but many of us find very pleasurable), alternate between your hand and the paddle, crop, or whatever implement you're using. This gives your partner a break from overwhelming sensation, allowing them to catch their breath, and gives your arm/hand a break from all the impact."
Well, my my! This sounds like a truly delicious way to spend an evening!
So you've been dropping hints (and your knickers) for days now in the hopes that someone will take you in hand and deliver what you need but so far, your intimations have not been heeded.
As in the advice from Kayla above, one of the important things is simply to ask! After all, it's quite a big deal to have your partner lay their hands on you in this way so even if they did 'get the hint' it still might require absolute clarity on what it is you want them to do. As ever, the sexiest thing that can happen between two or more people is communication.
It can be a scene that you plan ahead together, perhaps your partner tells you that if you forget to put your knickers on to work again, they will have no choice but to deliver a thorough spanking for your misdemeanours. Build up the excitement by adding in little details, if you wear your hair a certain way, if you walk a little more slinky. And one of the most exciting parts of all, the interrogation when you get home… when you have to admit to your saucy misadventures… and await your sentencing.
Fantasy is such a lush way to enhance your sex life and the more you embrace it, the more satisfying acting it out will be.
The fantasy can be as simple or as elaborate as you like, why not take some inspiration from our film Spank Me and this very saucy sexy spanking story from Sidney Sitravon:
The first spank was light, not at all painful, yet there was an abruptness to it that surprised her. She felt her body lurch forward, her toes slipping from where they had been pressed into the hardwood floor. Her entire body had been tensed in anticipation of what was about to happen, and she hadn't even realized it.
Slap.
Another one, this time more firm. She felt him cup the flesh of her bottom, spreading her cheeks slightly apart. Already she was wet. She had no doubt about it. She had been thinking about this moment for days. The moment he had bent her over his leg she felt a tingle rush through her body unlike any other. She couldn't help it—this was what she wanted. This was what she had been waiting for. She wanted to fully submit to him, and let him do whatever he pleased to her.
She gasped.
Another series of slaps came hard in succession. Two, three, four, she counted, each one harder than the last. It stung now. Really stung. She suspected her skin was red, or at least pink, although the thought didn't alarm her… it only turned her on even more.
You've come to the right place if you want to introduce something a little saucy or kinky sex into your world—reading out some erotica stories or sharing a scene in a erotic movie can be a great way to break the ice in the first place. Test the water and see if your lover's passion is set alight for your sexy plans.
Now, bend over, I hear you have been very naughty!