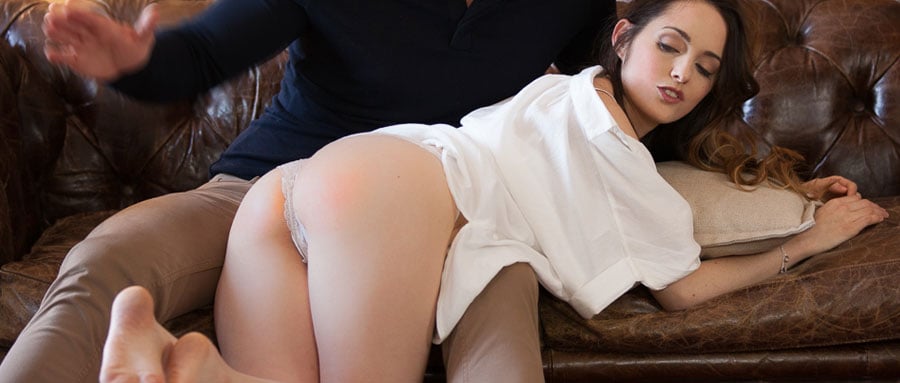 SPANK ME - Story
Beautiful erotic spanking story
Comment
He caressed her bottom… lovingly, firmly, yet with intention. There was more to come, and she knew it. Her bare ass was fully exposed, her dress pulled up and her panties pulled down. In between his caresses she felt a light breeze dancing across her exposed skin. Her breath was tense, yet she felt relaxed, calm, peaceful—until it came.
The slap.
The first spank was light, not at all painful, yet there was an abruptness to it that surprised her. She felt her body lurch forward, her toes slipping from where they had been pressed into the hardwood floor. Her entire body had been tensed in anticipation of what was about to happen, and she hadn't even realized it.
Slap.
Another one, this time more firm. She felt him cup the flesh of her bottom, spreading her cheeks slightly apart. Already she was wet. She had no doubt about it. She had been thinking about this BDSM moment for days. The moment he had bent her over his leg she felt a tingle rush through her body unlike any other. She couldn't help it—this was what she wanted. This was what she had been waiting for. She wanted to fully submit to him, and let him do whatever he pleased to her.
She gasped.
Another series of slaps came hard in succession. Two, three, four, she counted, each one harder than the last. It stung now. Really stung. She suspected her skin was red, or at least pink, although the thought didn't alarm her… it only turned her on even more.
Another, then another. She felt his hand landing full across her bare skin with acute precision.
"It'll be harsh, yet you'll quickly find you can't get enough of this," he had told her when they discussed it what seemed like ages ago. She knew this was not his first time. It was, however, hers. The combination of her innocence and his experience aroused her senses to an untold height. She couldn't enough.
~
She...
...to read the rest of this story please login or
register
to read the full story free.
Read all about the wonderful author: Sidney Sitravon