Nudity seems to be the trend this summer. Several thousand people daubed themselves in blue paint to take part in a quite brilliant photographic event in Hull. Streakers jogged through London Zoo one evening to raise funds for tiger conservation. And, of course, there has been Channel 4's hugely controversial Naked Attraction dating programme.

While the programme may have attracted a huge number of detractors and complaints, there is much to admire in it and the producers, contestants (if that is the right term) and Anna Richardson, the show's wonderfully positive and unflappable presenter, should be congratulated on a bold step that celebrates the naked body in all its different forms.
For those unacquainted with the programme it is a naked version of the old classic Blind Date. One brave individual selects a date from a possible six people. But what is different is the fact that they make their choice purely on the appeal of the naked bodies up for selection. Initially the person making the choice only sees the bottom half of all six of his or her possible dates, each of whom stands in a small cubicle behind a screen that is raised to reveal all their nude selves.
And when the screen rises to waist level, the chooser moves forward and has a good look at the legs, midriffs and genitals on offer. A very frank discussion with Anna Richardson inevitably follows about what type of penis or vagina (or – in the case of one bisexual contestant choosing between three men and three women – both) appeals and why. And this leads to really interesting comments about the pros and cons of pubic hair, the benefits or drawbacks (if you will excuse the pun) of foreskins, and the relative attractiveness of visible labia.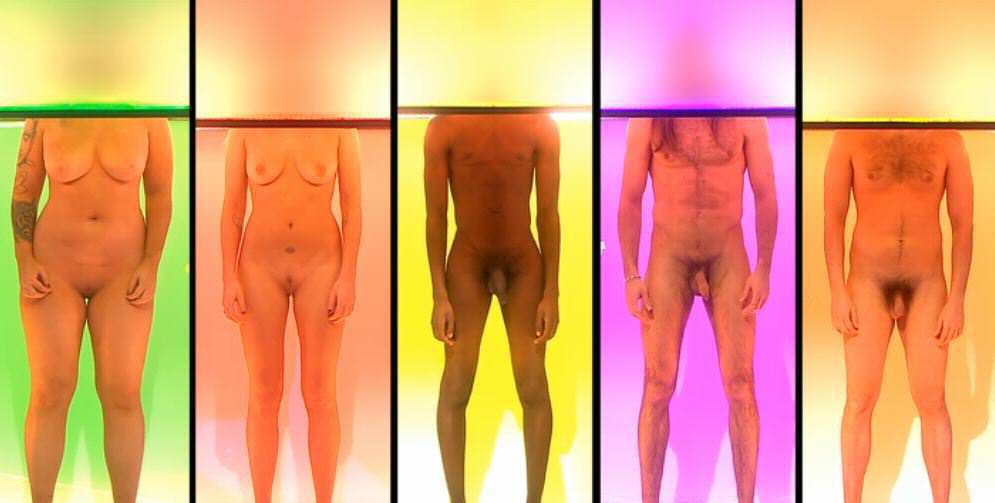 All of this reveals a surprising amount about the character and desires of the selector. Anna Richardson must be saluted for her frankness and her ability to deal with any of the remarks made by the date-seeker. However, what is perhaps most telling is the positive comments made about all the bodies and genitals. Bodies of all sizes; penises of all lengths; vaginas of all shapes are praised. Furthermore, it is fascinating to see those with the seemingly more 'ideal' body, bigger boobs or larger penis are often rejected in favour of someone with a particularly confident stance, or particularly 'welcoming' eyes. Naked Attraction could not be more body or sex positive.
The only criticism would be the opportunity missed to explore contestants' view of their own and their date's bodies. It would have been good, for example, to find out more about one woman's nipple piercing (the diagonal arrow bolt was so original) which she was clearly really proud about. Her story would have been worth hearing. As would the thinking behind some contestants' tattoos, their pubic hair styling, women's almost universal belief that their genitals were not that 'pretty' and yet their date thought them 'perfect'.
There are clearly a lot more questions than answers and this is food for thought for series two…if the powers that be permit it.
A very special thank you goes to a discerning male follower for contributing the above article.