I have always loved burlesque. There is something about the staging, the sumptuous clothing and the willingness of the audience to participate that makes burlesque special.  A high-class strip down to briefs and nipple tassels takes some beating, especially if it is done by someone confident in their skills and who is keen to show off their body.  And if they can tease the audience right down to the very last reveal, and toy with them as each article of clothing falls to the floor, they are a delight to watch.
Burlesque is definitely naughty, but it is a restrained and controlled naughtiness.  You want to see more.  You want to see nipple tassels torn off.  You want to see the G-string glide down thighs.  (Well, at least I certainly do!)  But you know this won't happen. You leave wanting more.  But you know from the moment you arrived that a tease was all you were ever going to get.
The first burlesque club I visited got it right from the moment I opened the door.  The atmosphere wreaked Weimar Germany.  Art deco lamps were on tables, large Otto Dix type paintings hung on the walls alongside black and white photos of the club's performers.  You could instantly sense the decadence.
You had to wait in the bar area to be seated, and even the taking of drinks orders seemed to be part of the act.  So when the first star appeared on stage, you were well into the show.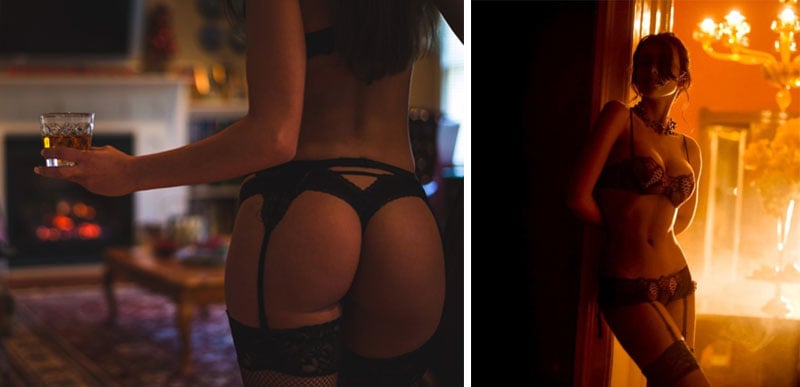 So, my fantasy would be based in one such club.  But for this one night only, it would be a lot racier and naughtier than any normal act.  This would be rather more than just a tease.
This time the front door to the club would not be one you could open: it would be locked.  There would be a sign saying that it was a member's only night.  Entrance would only be granted to a special few.  And I would be one of them.
My fantasy becomes more vivid.  I knock on the door.  It opens a few inches.  A pair of beautiful eyes appear on the inside.  Make-up is perfectly applied; eyebrows are carefully defined.  I guess that the doorkeepers' hair would be pulled into a tight ponytail.  I am asked and give a password. I have memorised it, recite it and receive a nod in reply. I enter the establishment.
A ponytail is indeed confirmed, as I am invited inside by the woman on the door.  And it is not just her hair that is pulled tight.  Her dress clings to her body.  It is the uniform of a waitress, only the skirt is shorter than normal and her cleavage is clearly on show.  I follow her up some stairs, the stiletto heels of her courts show almost at eye height in front of me.  I notice a black seam up her stockings.
We arrive at the top of the stairs and she ushers me into a large room.  I am not the first.  There are about twenty people, roughly the same number of women and men.  It seems like one of those post-war private parties with men in dinner jackets and women in cocktail dresses.  There is a buzz in the room and a sexual energy is definitely discernible.
Another waitress appears, similarly clad, but with more of her cleavage on show.  She carries a tray of champagne-filled cut-glass flutes.  She seems to be following a specific route through the room and exists at a door in the corner.  As I sip my champagne I notice that another waitress, again attired in the same outfit, enters the room.  She is carrying a tray of canapés, but now I see that the upper part of her dress is unbuttoned to her navel, and her breasts are nearly on display.
I realise that I am watching a striptease.  Only it is a striptease involving a succession of performers.
And now the waitress with the canapés is replaced by the one who showed me upstairs and she is just in a skirt, save for nipple tassels.  She is carrying more champagne, and she stops as one group deposit their empty glasses, and pick up full ones from her.  She arrives at me, and there are no full glasses left.  She smiles and says, in what is unmistakably a French accent that she will be back in a moment.
A moment later she stands in front of me, her tray replete with full glasses of bubbly, but now the nipple tassels have gone.  Behind her, more canapés arrive, and the waitress carrying them is down to her stockings and G-string.
And then a waiter, who I had not noticed before, but who had presumably been standing to the side, raises a gong and taps it once.  The buzz in the room quietens.
"Ladies and gentlemen, your dinner is served," he announces with a broad smile.
Black curtains at one side of the room are pulled open by two totally naked waiters.  Standing against the walls are more waiters and waitresses, all totally naked apart from the women who remain in their black stilettos and stockings.  We are ushered to our seats at a large, rectangular table.  Each of the guests is escorted by an attendant of the opposite gender.  And I find myself beckoned by the same woman who opened the door to me.  Her breasts are full and firm, but it is the nipples that attract my attention, they are rock hard.  My eyes are drawn lower, to a pearl stud in her navel. My gaze drops further to a thin line of dark pubic hair, which leads me to her pussy.
She pulls back my chair and I sit. There's a woman on either side of me: a classic dinner party configuration of boy/girl/boy/girl around the table.  Our starters are in front of us and we begin to eat.  I introduce myself to the women either side of me; both instantly fascinate and I want to find more about them.
But the dinner party moves on and our starters are taken from us; mine hardly touched.  The asparagus tips were divine and I should have gobbled the lot.  Mains arrive almost directly afterwards.  Salmon wrapped in puff pastry, complemented by the light, early season vegetables.  And as I eat I find out more about the diners next to me.  The woman on the left was once a model – she did lingerie and occasionally 'light' bondage work, 'just for a bit of fun'; the woman on my right writes erotic fiction, 'mainly from experience'.
No sooner had I learnt this than it is time for dessert.  But at this dinner party, it is no ordinary dessert.  The gong-wielding waiter reappears and the deep, bell-like sound rings out once more.  A trolley is wheeled in by the still-naked waiters, and on it reclines a woman – I sense one of the waitresses – covered in fruit and glistening in what appears to be a liqueur sauce.  The trolley stops a few paces from the head of the table and each of the diners, including me, is handed a spoon.
One by one we help ourselves to the fruit and sauce from the nubile woman.  I take mine from a well-toned midriff; the woman to my left takes it from her pussy.  And so we have our final course, and I discover that the woman to my right is turning one of her erotic novels into an explicit film, to be shot next month.
The evening is nearly over, but not quite.  One of the women towards the head of the table stands up and speaks.  She thanks us for our company, and for the diligent service provided by the team serving the table.  She pauses while we applaud. And then she tells us to sit back in our chairs, to relax and enjoy the port which will be arriving shortly.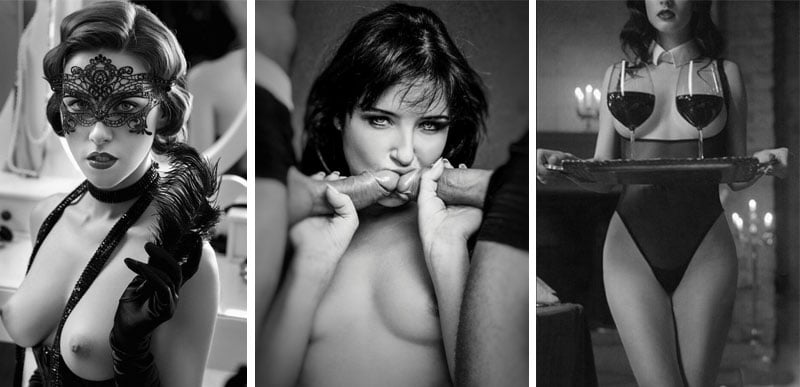 With that, some music starts and she slowly – almost imperceptibly at first, she sways in time to it.  Gradually she begins to dance and as she does, she starts to unzip the back of her dress.  She steps out of it, revealing a red bra with matching knickers.  And, as the music builds, she unbuttons her bra and reveals two magnificent breasts.  Her briefs follow after and she stands naked.  She then beckons two waiters, both naked, who have been standing behind her to approach.  They stand, bolt upright, either side of her and she drops her hands to both their cocks, which she rubs to matching erections.  She then kneels and takes one, then the other in her mouth, pumping them with her hand as she gorges on their thickness.
The waiters stand still, trying not to move, but the pleasure is such that you can spot their backs bending in response to the intense pleasuring. The double
The double blowjob continues.  One cock in the mouth, the other in her hand.  Both are being pumped.  And then it shifts around.  One guy, whose cock is deep in the woman's mouth, is on the brink of coming.  He lets out a stifled groan and begins to shake.  We see a line of cum drip from the side of her mouth.  And as he ejaculates, so does the other next to him as he spurts in time to the pumps of her hand.
Both waiters are now spent, but our hostess – because that is we now realise that is what she is – is not sated, and she now beckons another waiter and also a waitress.  The former arrives erect.  She kisses the waitress deeply and puts her hand – still dripping with semen – between the woman's legs.  She rubs the servant down below and then, holding the hands of both of them, heads off behind the curtain.
The remaining diners want to see more.  Who is she going to fuck and how?   Who will she take first?  Will she take them simultaneously?
But these are only questions we can ask.  We are not going to get answers.  We would like to know more.  We would like to see more.  But this is burlesque.  We know we are not going to see it all.  There has to be something left unsaid, undone, unseen.
And with that, the evening comes to a close.  Our naked waiters and waitresses see us out of the room and the event is over.
Well, it is for me.  Until that is, I continue the fantasy on my own, in my mind, with a visit behind the curtain.