It all began as a Google search.
My wife had read all of the 50 Shades of Grey books and taken me to all of the erotic movies. As a man, the movies were but an appetizer.
I didn't know just how much of E.L. James' books were a fantasy for my wife or how much were her actual desires. I knew that our home wouldn't accommodate a red room of pain, although we had often talked about creating one, once our children were out of the house.
I knew too, that if we ever entertained serious bondage, that we would have to wade into the waters slowly since we had no real knowledge of the lifestyle. So I asked Google about private dungeons and private red rooms of pain.
Within milliseconds, Google returned thousands of results. As I poured over them, none were near our home. None were even in our state. Nevertheless, I noted the locations and began to explore their various offerings. Some were group houses. Some were private studios. Some were personal homes.
None seemed right, except for a place in Chicago's suburbs that appeared again and again with rave reviews from customers. It was a stand-alone dungeon that couples, or groups, could rent by the hour. Options included the whole house—or single rooms. My interests were in the whole house—free of strangers or variables I could not control. However, Chicago was nowhere near us.
I bookmarked the page.
Two months later, the phone rang and my wife's friend invited us to Chicago to celebrate New Year's Eve. I flew into action. I contacted the Master of the house and we communicated via email. The clandestine emails were erotic all by themselves, not in the content but in their secrecy. Just the Master and me.
The cost to rent the entire house was $300 for two hours—a mere pittance for the chance to enter another dimension of bondage, submission, paddles, chains and leather-clad beds. I booked it and sent a deposit.
Then came the rules. The instructions. The extremely detailed instructions. I was given an address and a picture of an old, abandoned-looking brick townhouse. I was told about cleaning toys and the number of guests if we intended to invite others. My mind raced and bodily electricity made its way to my cock. I was about to enter another world.
The strangest rules were about entry. I was told to text the Master on my way to the property. Then to approach the door and ring the bell. Then to text again. Then to await more instructions.
I told my wife nothing. We packed for the trip and I secretly included our own vibrators, handcuffs, panties and a paddle emblazoned with the word "SLUT" across its front. I also threw in a couple of aeroplane vodka bottles to embolden my resolve when the day arrived.
We landed at O'Hare and dutifully enjoyed Chicago's tourist sights. We went on a booze cruise on Lake Michigan and finally rang in the New Year at our friend's suburban home.
There were moments leading up to the party where I envisioned party-guests with tight tops that pressed against eager nipples and sparkly dresses that were appropriately too short given the annual celebration of a brand new year. I found myself fantasizing about stealing away to a bathroom or bedroom and fucking my wife on her knees while she stifled her screams and moans—only to return to the party adjusting her tiny skirt and trying to mollify her rock hard nipples.
If I'm honest, I also imagined wondering into a vacant bedroom and finding another couple there who would entreat us to join them. None of that happened. Rather, the guests were dressed in such a way that I knew they couldn't spell the word bondage—let alone endeavour to experience. It. They were delightful neighbours who wore corduroy and fisherman sweaters that hid even the presence of breasts. Needless to say, I was eager for the first of the year when I was scheduled to strip my bride bare, smack her ass to the perfect pink hue and plunge myself into her aching pussy with torrid release.
That day came.
We woke in our luxurious hotel suite the next morning and I explained to my wife that we were going to go on an adventure. I wanted to completely surprise her but she demanded to know where we were going. I told her that I really didn't know—but that she was about to be dominated in a way that she had never been.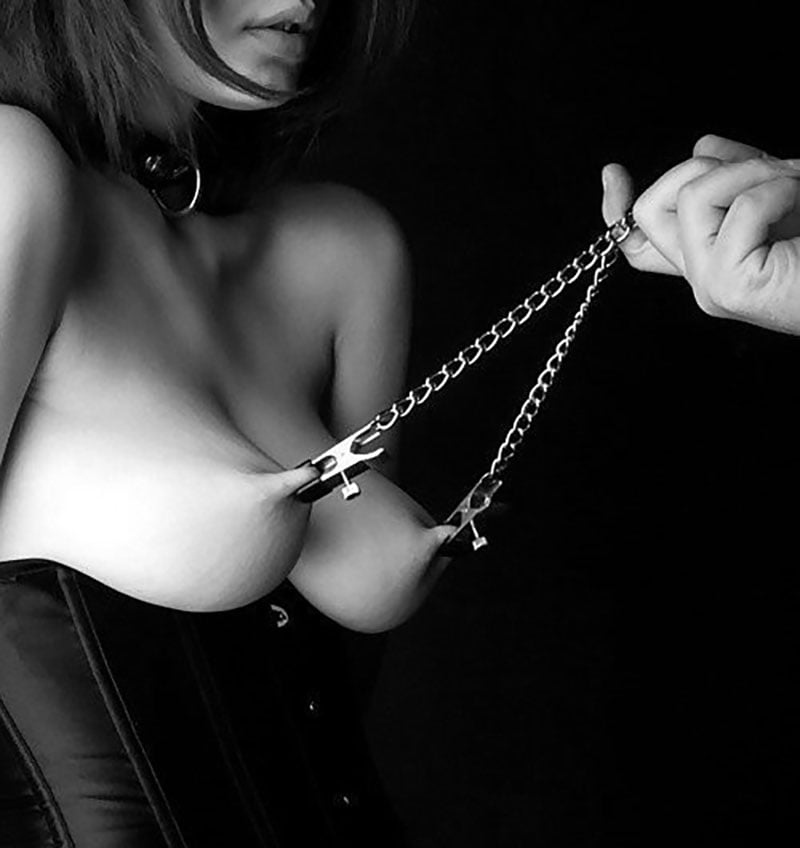 I told her that I had rented an S&M dungeon.
To say that her reaction was mixed would be an understatement. She is a sexually adventurous woman but she is also a mother. The idea of such a secretive, secluded, sanctuary of sex—had her on edge. Fortunately, I had made the deposit and she is not one to waste money. Therefore, we gathered my bag full of crotchless panties, vibrators and the paddle—and called the Uber.
There was no reason for me to be embarrassed in front of the Uber driver. We were not driving up to the front door of a strip club or a swinger's den. It was a completely nondescript building that even the most informed Uber driver would never guess was a palace of pleasure.
We exited the car and gingerly walked across a vacant parking lot to the dingy front door and pressed the bell. I had texted in the car and again after ringing the bell—just as I had been instructed.
Within minutes, the heavy door swung open and a dominatrix in full leather greeted us. There had been an option of having the Domme play with us, and I quickly regretted not adding her to our menu. She was buxom with high heels and the requisite whip attached to her hip. Her lips were pouty with bright red, glossy lipstick. She had latex gloves on and an hour-glass figure that revealed every sensuous curve. But she was not demanding. Not aggressive. Rather she was inviting and gracious like the matron of a whorehouse. We entered quickly and she shut the door behind us.
Before us—beckoning down the long hallway were plaster casts of tits and big cocks stuck to the wall. There were erotic photos of couples tied up and stretched across St. Andrew's Crosses. It was wild and wildly stimulating. I could have heard my wife's heartbeat had my own not been so loud. We had crossed over into a new land of pure eroticism free from rules and regulations. Free from expectations and judgement.
The Domme gave us a tour of all of the dungeon rooms.
One had chains, another all leather goods. One had a combination sex swing of leather straps suspended by silver chains.
Our favourite room included a leather-padded sawhorse, leather bed and leather spreader bars with still more leather attached to the cuffs. It was meticulously ordered. Everything had its place on the wall. There were dildos and vibrators and butt plugs and strap-ons. The dungeon smelled of sex but was perfectly clean. There were even spray bottles of disinfectant and rags to clean up after you came or squirted or simply sweated on the apparatuses.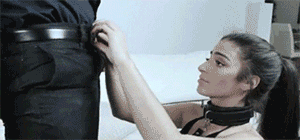 As soon as the tour ended, the Domme bid us farewell and ascended a back staircase. It was bizarre to think that someone would be upstairs hearing our pleasure—listening to our heavy breathing and even our screams. I had to wonder if there weren't some cameras hidden in the dungeon walls to capture our activity and arouse the Domme above us. I imagined her upstairs biting her own lip as she fondled herself watching us play. But those fantasies were dismissed as my wife quickly became comfortable in her new home.
She stripped in front of me and tore into our bag of tricks pulling out her own latex gloves and slid into her black lace panties and knee-high boots. She had already made up her face with dark eye-shadow and bright red lips that matched the Domme. She fastened a leather choker around her neck and adjusted her black, sheer bra. Her nipples protruded to the point I imagined them tearing the fabric as I ran my hand across them and pressed my lips to hers.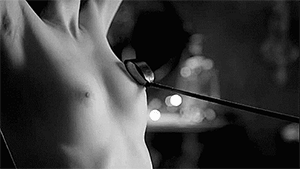 We explored each other's mouth with our tongue like hungry snakes. Suddenly—what had begun as her fantasy became mine. My cock was aching and stretching against my jeans. She felt for it and asked me what her master wanted. I caught my breath and pushed her head down.
She obediently knelt before me and unfastened my pants. My cock sprang over the top of my boxers and she ripped them down to my ankles with wanton aggression. I grabbed the back of her head and thrust my cock into her mouth and began to grind my body against her lips.
As I threw my head back and enjoyed the way her tongue wrapped around me back and forth, I realised that all of the pent-up excitement was bringing me to the edge of orgasm. But that would have to wait. I pulled her mouth off of me and instructed her to stand. I turned her around forcefully and cuffed her hands with a pair of red-leather cuffs hanging on the wall.
I led her to the cross and removed her boots. I then refastened her arms to the O-rings on the cross and spread her legs using the bottom cuffs. I stood back to admire her helplessness. That alone could have made me cum. It was something I had never experienced but always fantasized about. I wanted her completely helpless. I wanted her unable to cover herself. I wanted her tits on display and her pussy dripping in front of me.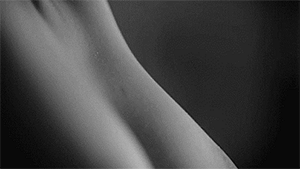 First, I freed her tits from her bra. Those perfectly sized tits were ravaged by my tongue and groping hands. I licked them and sucked them. I rolled her nipples in my fingers and cupped her breasts. I pressed my cock against her mound but didn't enter her. Instead, I pulled down her lace panties to her thighs—stretching the lace to the point of tearing them and I teased her cunt, spreading her lips open even more and fingering her wetness. It was electric. She was a waterfall of juices and I dropped to my knees after sucking my own fingers dry. I licked her snatch while fingering her with excited speed, listening to her moans, watching her hips buck and slap against the wooden device.
I was still hungry when I rose and unhooked her hands and feet. I led her to the bed and forced her face down onto the leather structure and bound her hands to the clips that lined the bed every six inches. Then I fucked her. I fucked her deep. I fucked her bent over from behind and slid in and out like never before.
Never had she been wetter. Never had her pussy been so eager and open and smooth. We fucked and fucked and fucked. My excitement was equalled only by my desire to do more—to experience more—to dominate her more. She was the perfect Anastasia from the 50 Shades books. The perfect submissive.
I unfastened her, flipped her around to face me and I pushed her onto the bed. I climbed on top of her chest and she dutifully began to suck my cock. Again, I threw my head back and forth, staring at her perfect breasts and then at the ceiling. I could not control myself and pulled my cock out of her mouth and shot steaming, thick white cum all over her tits. It was like nothing I had ever done before. It was a complete release. No worries about children in the house or cultural expectations. We had been transported and I could finally release the fullness of my sexual desires.
She rose up and smoothed my cum around her areolas and nipples. Then she licked her fingers and told me it was her turn.
She led me to the room with the swing and tied my arms with ropes to the chains. My legs were also spread—fastened to the leather-hammock awaiting her to thrust herself on my already resurrected rod.
But she waited.
She turned to the wall and donned one of the leather cat-like masks that filled an entire shelf of helmets, headdresses and rubber eyewear. She turned back to me and seated herself in a chair directly in front of me. She slid off her panties and opened her legs fully. Then she presented our favourite purple and pink vibrator.
Like a magician, she held it up to the audience of one—and turned it on. She licked it. Then sucked it—deeply—lubricating its entire shaft. Then she teased her nipples with its head and progressed down her stomach to her perfectly waxed cunt. She pressed it against her clit and moaned like the cat she was behind her mask. She moved it around the edges of her swollen lips as my hips strained in the swing.
Then—unexpectedly—she plunged the phallic head inside her moistness—inside her entrance—inside her soaking wet cave.
I don't know who moaned louder, her or me. I was in a psychotic trance watching her fuck herself in and out, raising the level of vibration and bucking like a beast in heat. She clenched her teeth and then opened them to moan only to clench them again as wave after wave of orgasm crashed over her body.
She was cumming over and over again unlike anything I'd ever seen in our bedroom. Finally, she slid the now glistening toy out of her and smiled like a Cheshire cat. She stood up, put her purple friend down and swung my cock directly into her stretched pussy. She swung me back and forth only allowing the head of my cock to feel her, allowing me only an inch inside her pleasure chest.
I begged like a prisoner in the din of the red lights that illuminated our sex chamber.
She steadied the swing and grabbed my cock in her hands and pumped my shaft up and down giving me the best hand job imaginable. I continued to beg her to let me cum but this time, she was in charge. She turned around and bent over to touch the ground in front of me. She knew how much I loved to see her pussy from behind, perfectly framed by her firm, round ass cheeks. She backed up and guided my dick inside her from behind. Then she moved with the swing allowing me to fuck her bent over, pounding her while I stared at her ass.
I could not control myself. I came again as she let me fill her with my second load of my sticky sex, before turning around to suck every last drop out of me with her liquid red lips.
I lay suspended, completely spent with my arms and legs spread wide and my cock still hard and throbbing. I wondered if my hard-on would ever relent. My mind was wild and so was hers. We had both embraced our own private fantasies.
The clock on the wall neared the time of expiration and while it would have seemed natural to have the Domme return to catch us naked and dripping, our sensitivities told us otherwise. My wife unfastened me and I slid out of the swing.
We embraced like new lovers. We kissed like strangers who had just discovered the love of our life. We melted into each other with heat and sweat and passion, then we gathered ourselves, our toys and our clothes and headed for the door.
I turned and took a picture down the hall of our fantasy castle, laid a tip on the table and exited to meet our Uber.