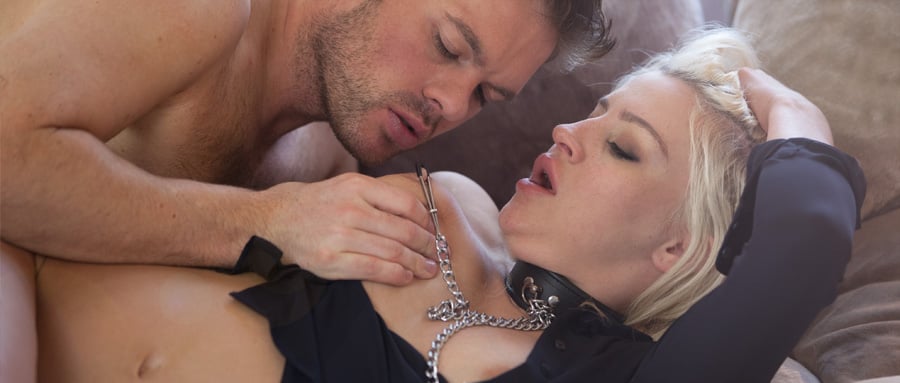 DIVINE PLEASURE - Story
Submissive blonde dominated by her sexy man
Comment
Sienna sits obediently as Ryan strokes her jaw and traces the seam of her lips as she leans towards him. Taking in the rich aroma of male musk combined with the fresh tang of his cologne.
As Ryan places the black leather BDSM slave collar around Sienna's neck, he feels his usual need for experiencing sexual pleasure and anticipation. Revelling in the way Sienna's pupils dilate, a sure sign of her arousal. Her response to this act of submission, a gift to her Master. Sienna's submission feeding his own arousal as his cock hardens, straining at the zipper of his pants. Her control, his reward.
Two heavy metal chains attached to the ring at the front of the collar fall between her ample unfettered breasts. Each chain ending in a naughty nipple clamp.
The heady perfume of her arousal evident in the air, pheromones enveloping Ryan as he teases and torments her nipple, readying it for the bite of the clamp. A delicious combination of pleasure and pain. Sienna's arousal spiking with her own act of submission to her Master. The mere thought of handing over control has her wet in anticipation.
The pair had met for the first time a few months earlier at a local fetish event. A Munch where like-minded individuals with an interest in kink gather to talk, and sometimes play, dependent upon the location.
Drawn to each other. His need for domination and control complementary to Sienna's overwhelming need to submit and obey. A slave to his pleasure. Two sides of the same coin. His Ying to her Yang.
The connection between them electric and palpable.
This was not their first playtime, and it wouldn't be the last. Each time they play Ryan pushes Sienna's limits that bit further. Her boundaries falling to the wayside in the process. His knowledge of her body aiding him as he pushes her higher and higher, exacting ever-stronger orgasmic pleasure. Able to read the little nuances that reveal to him all her thoughts and emotions.
All Sienna wears for play today is a short black shirt, open, displaying her smooth creamy tits. A pair of sheer black panties. A wisp of lace evident. Each item selected in advance by...
...to read the rest of this story please login or
register
to read the full story free.
Read all about the wonderful author: Scarlett Flame