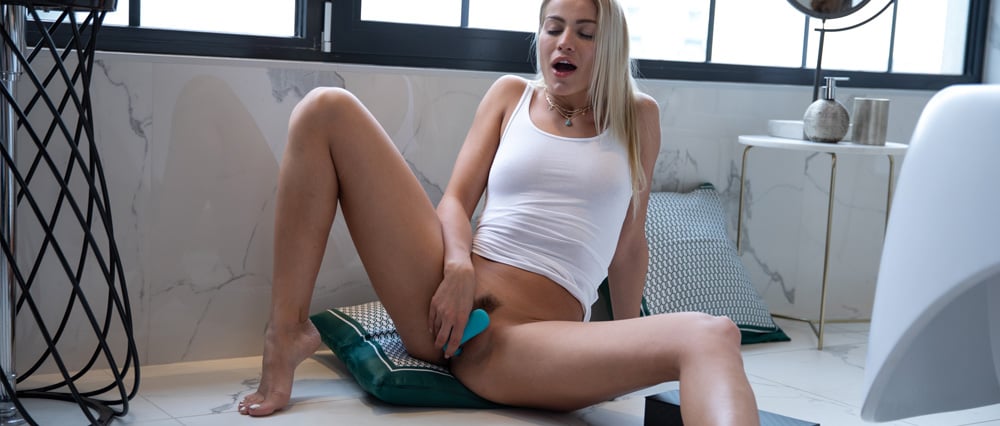 GOT THE VIBE - Story
Female orgasm pleasure, an erotic steamy sex story
Comment
Do you know something, I rarely, if ever, spend money on myself. I know, I know, I give off the air of a selfish, spoiled brat sometimes with my good hair and excellent makeup… I'm joking. You should see me in my everyday clothes—I'm a wellies and shorts kinda girl. Working a smallholding is no mean feat I'm telling you. It occurred to me when Franny said we should go on a short break, that I truly never spent money on myself.
Yes, I spend money, of course, I do, but a new bridle for Denby the old shire horse hardly constitutes living in the lap of luxury now does it?
So we'd booked a trip, just Franny and me. Took four weeks to sort out who was going to come and let the chooks and ducks out, who was going to walk the dogs, feed the cats, ride the ponies, untangle the goats from the fucking brambles, honestly it is not the idyllic romantic-prancing-through-meadows life folks think it is.
The last time I bought something just for me, not including a new Barbour jacket or Storm boots—those are work clothes or a towbar for the fucking pick up—no, the last time I bought myself anything? Fuck, I actually can't remember.
So of course, Franny had to catch up on a few things and told me to go ahead, and after booking into this lush pad, I got the text.
"Sorry darling, Sooki's gone into lambing, looks like complications, you enjoy yourself. Buy yourself a treat."
I fucking knew we should have travelled together. I knew it was too good to be true. So there I was in a city I didn't know with no partner and nothing to look after apart from myself.
I had been looking forward to finally being able to just fuck without a cat prowling around our heads, or a damn cock crowing at 3 am. Yes, the city was noisy, but it was human noise, not the damn needy animals! Listen I adore my furry and feathered babies but even a mother needs a break from time to time.
So I'd taken myself off to explore the town. It had been a glorious day. Hot, dusty, noisy, human-scented air mingled with exhaust fumes and hot street food.
I found myself in an older part of town, vibrant, kind of had that vibe where things could kick off at any second. Much like the bullock field on in the early evening. One move and it could all go crazy.
The streets thrummed with that unexplainable energy—febrile and buzzing. Bars were spilling over, people queueing for the outside tables,...
...to read the rest of this story please login or
register
to read the full story free.
Read all about the wonderful author: Tabitha Rayne