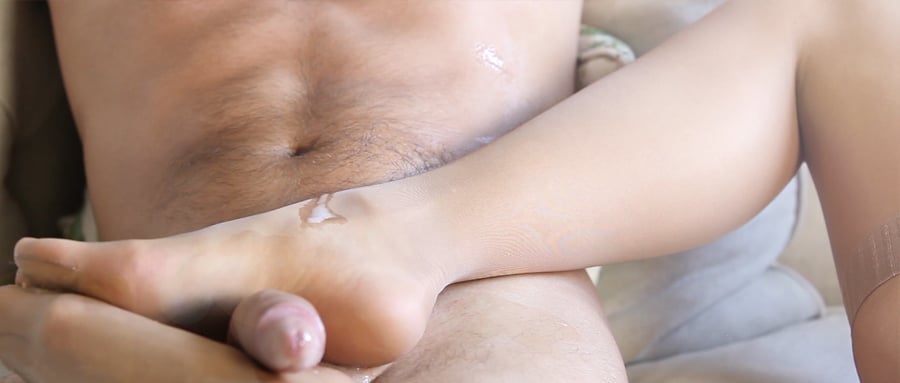 FOOT WANK - Story
Sexy foot wank story with nylons
Comment
It was only a sheer piece of fabric, but Sienna's nerve endings burned in fiery delight as her fingers caressed the leg of the thigh-high stocking that she had slipped from the package. The silky sensations felt amazing against her hand, and her loins began to stir in anticipation of feeling it sliding over the skin of her foot. She would never have thought twice about the power of nylon or her feet if it hadn't been for Max unknowingly teaching her about it days prior.
He had been rather preoccupied and distracted, which had caused Sienna to worry that something was wrong. Eventually, she had the realization that the distraction was behind her, and when Max had excused himself to the men's room she had turned in her seat to see that it had been a youngish brunette two tables away from them. There hadn't been anything special about her, just a young professional on her tablet, but then Sienna had noticed movement under the woman's table. She had been vigorously playing with her black high heels, and Sienna saw that she was wearing nude pantyhose.
Sienna smiled as she began to roll up the gossamer fabric in her hand. The sight of the young woman's nylon-covered feet had sparked a memory that Sienna hadn't even given much thought. The one time that she had worn a pair of pantyhose for an evening date, Max had paid a lot of attention to her and had been much more energetic in their bedroom activities. Was that it? she had thought to herself, watching the young woman's shoe play. Is Max into nylons? Or feet? Or both? Was that his dirty sex fantasy? 
"Now," she said to herself as she pulled the nude stocking onto the tips of her pink-painted toes, "we find out the truth." The fabric unrolled up over her foot and ankle, and she trembled as it slid over her freshly shaved and lotioned skin. She had never been one to wear nylons, only drugstore purchased pantyhose for special occasions. But she had splurged on the thigh-high stockings and had gone for an expensive European brand, and it seemed that she had been missing out. She had even bought a lacy grey girdle to hook the stockings onto. Girdles had always seemed old fashioned and matronly to her, but she had to admit that the way it hugged her hips and buttocks made her look spectacular. And, as she tugged the top of the nude stocking up her thigh and attached it to the garter snap, she felt more than spectacular – she felt like a woman.
She took her time again with the second stocking, revelling in the sensations that travelled throughout her at both the feel of the nylon and the excitement of what was to come. Once she had both stockings on, she stretched out on the couch and admired the expanse of her legs. Even if Max wasn't into nylon as she suspected, it certainly wouldn't be difficult to seduce him that evening. Maybe she could even wank his hard dick in-between her nylon covered feet. The thought made her shiver.
As she waited for her man to show up, she wiggled and flexed her feet, watching as the nylon material wrinkled and smoothed out, reflecting the soft light from the window with a muted sheen. It was almost hypnotic, and she began to understand the affection that men had for the material. And as for her feet, she thought as she rubbed them against one another with a soft rasping of nylon against nylon, they were just as beautiful as any other part of her body. Images flashed in her head of using her arches and toes on Max's manhood, and a fluttering attacked her nether region. Her foot began to glide farther up and down her silky leg, and her breathing became heavier. It was difficult, but she resisted the urge to reach her hand down beneath her girdle to give herself just a little bit of relief. Instead, she fidgeted with the little bit of ribbon on her garter strap and the elastic edge of the silky girdle. Then she pulled on the top of one of her stockings, stretching it further up her leg and letting out a little gasp as the nylon rubbed against the sensitive skin of her upper thigh. Her hands dove under the material, sliding between silk and skin, and the fluttering she had been feeling became a throbbing. Her toes curled and her feet began to move more frantically against one another as she closed her eyes and felt herself drifting into an almost animal state of desire.
A buzzing brought her out of her trance and she checked her phone to see a text from Max saying, Almost there. Can't wait to see you. The anticipation was almost unbearable. She shifted her position on the couch so that she was on her side and rubbed her legs together. The swishing sound was louder, filling the room along with her breathing. It had the added effect of putting a...
...to read the rest of this story please login or
register
to read the full story free.
Read all about the wonderful author: J.T. Peters
You can also listen to this story