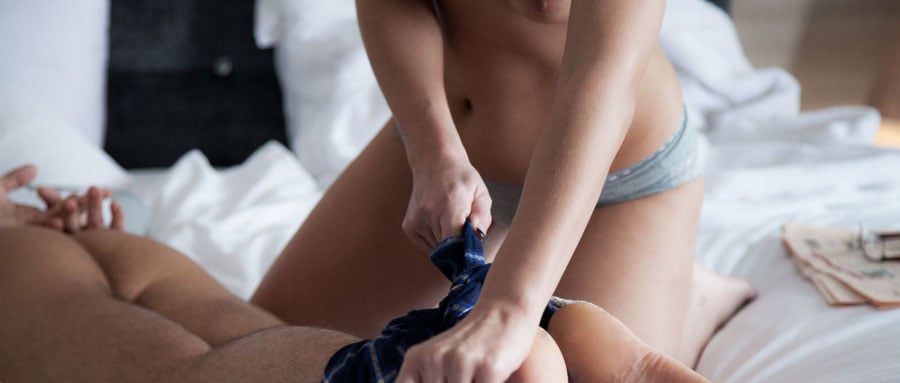 PLAYTHING - Story
Morning sex with her young toyboy from the night before
Comment
I chuckled as I listened to the commotion in the loo. It had been so unlike me to bring a plaything back for the night, let alone awaken to find he, my toyboy was still around. But he was very good looking and quite the flirt so with the few drinks we shared, my attraction and courage grew. Before I knew it, we were romping in the sheets for the better part of the evening.
I felt the bed jostle as my lover stepped upon the mattress and stood next to me. I sensed his eyes peering down on me, but chose to ignore him. We had our fun last night and, at this moment, I desired nothing more than a peaceful morning. I rattled the paper, adjusted my reading glasses on the bridge of my nose, and hoped he would take the hint, but he didn't. Instead, my frisky young man lay down beside me and tugged annoyingly at the cord of my bathrobe, morning sex apparently on his agenda. Pussy licking on mine.
I continued to read and show no sign of interest until; finally he became weary of seeking my attention and rolled to his stomach with a disheartened sigh.
I glanced over at his lovely bottom and instantly it triggered images of last night's pleasures of the flesh. My blood pumped a little faster as I realized I was not quite finished with him after all. Now distracted from the morning's headlines, I set the paper aside.
Crawling over to him, I straddled his muscular thighs. I pressed my quickly moistening mound against the firm curve of his butt cheeks while he lay perfectly still, as if he were now going to deny me. I grinned at the thought of him believing he could possibly have the strength to ignore my advances.
I slipped my robe from my shoulders, letting it fall to the mattress. There was now nothing but my panties and his pajama pants between me and his sweet ass.
With him pinned beneath me, I inhaled his masculine scent and pressed my breasts to his back. I nibbled at the tender flesh of his neck and kissed his earlobe as I thoroughly enjoyed my position of power over his fit young body.
Determined to keep my hot blooded lover in my control, I reached to the side and gathered the cord of my robe. My tummy fluttered with excitement as I brazenly placed his hands behind his back and securely tied them.
Moving off him, I tugged at the elastic waist of his pajama pants, eager to see the sexy bottom I knew was hidden by flannel material.
Two perfect cheeks now revealed, I caressed his naked buttocks, admiring the curve of his firm, toned rump. My head swimming with desire, I pulled the pants somewhat clumsily down his legs and over his feet. Instead of tossing them aside, I wrapped them around his ankles, using the pants to tie his legs together.
Amused by my resourcefulness, I rolled my...
...to read the rest of this story please login or
register
to read the full story free.
Read all about the wonderful author: Saffron Sands