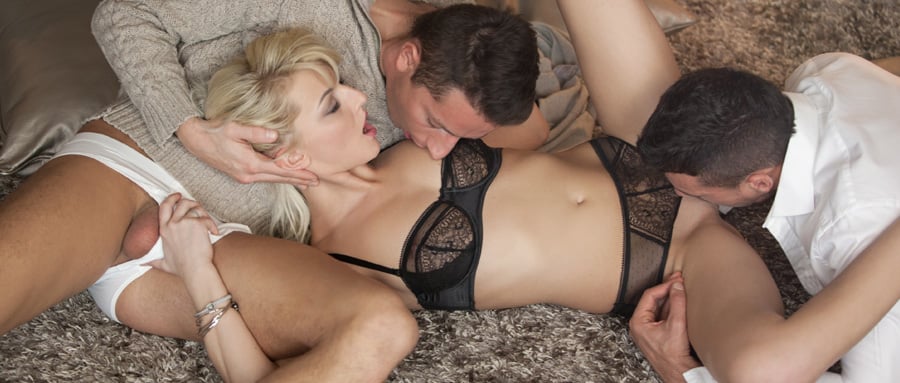 FUCKING PARTY - Story
Beautiful blonde enjoys two males in a threesome fucking party
Comment
Leona always felt relaxed in her black lace underwear, and she felt super cozy with her sweater. She studied Roman for a moment, as he sat on the carpet in his briefs. With the vodka chilling on ice between them, she sprawled next to him with a bright smile. He knew she had been looking at him—he had caught her.
That was how they had begun flirting in the first place, at the hotel bar at the work conference where they had first met. She was sitting in the middle on a stool at the bar, while Roman and Warren both tried to get her. It was like a silent contest between them. Roman played the gentleman, and Warren played the rogue.
"You could share me," Leona half teased, flirting with both men.
She had always wanted to have a fucking threesome, and both men were sexy enough to make that fire burn inside her again.
"What are you drinking?" Warren asked her.
"Vodka on ice…" she had whispered to him seductively.
Looking at Roman now, she scooted closer to him. He smiled as the only thing that separated them was the heat between their bodies. But before they could get up to anything, Warren had his hand on the inside of her thigh. Leona feigned interest in the vodka, well she wanted it…but there were other things that she wanted more. Roman, ever the gentleman, poured her a glass. But Warren was very serious as he caressed her lace-covered pelvic, bone and she was seriously turned on. Roman caressed her lip, and she could taste the vodka on his finger. Warren pulled at her panties, and her arousal was divided in two.
She was so glad she had not chosen between the two of them, but that she had made them choose to share her. When the three of them planned...
...to read the rest of this story please login or
register
to read the full story free.
Read all about the wonderful author: F. Leonora Solomon