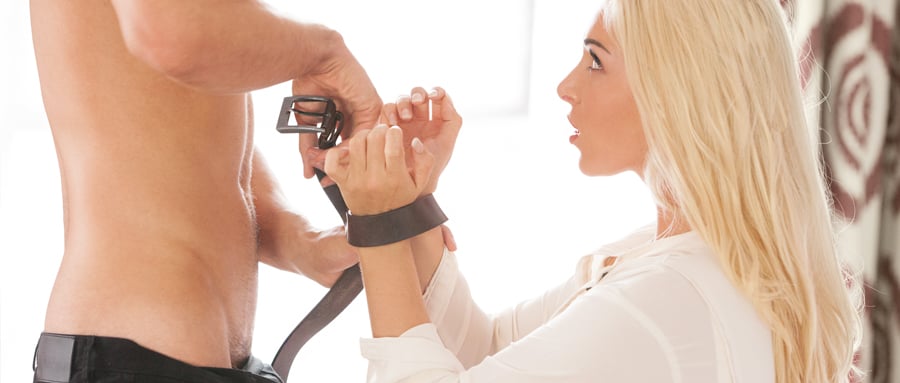 SOHO SEX - Story
Lovers enjoy some kinky couples sex in hotel
Comment
I know she loves to tease me. Oh how she does get my cock so alive and twitching as I watch her cavort in front of me, showing off her beautiful feminine curves in a way she knows I will struggle not to react to. I sit enjoying the feeling of early arousal until I can't watch anymore but have to kiss her. She has such a hungry, sweet, edible mouth and yet offers such gentle kisses, this woman who is before me who has the ability to control my horniness.
My mouth laps up her sensual lips, her kisses such pleasure to behold. My naughty girl, who knows how to bring me out of myself and get my cock throbbing for her pleasure. I taste her as her lips part and her tongue touches mine and I search into her to feel her passion. She knows how to turn me on with her kinky BDSM sex, my god, playing as she has done in front of me. Flashing her skimpy underwear barely covering her sexy curves. Just a little play at first, a typical tease, but no she doesn't stop there. Her sexy ways arouse my interest and I keep watching, seeing how she moves and plays with herself, letting her hands slide and caress her body, touching herself just where she knows I want her to. Then the sight of her pussy, so wet and feminine, that she flashes at me from under her silky panties. That moment as she slips them off and you see those swollen sexy lips, and my eyes are drawn to such a vision of wicked seductive pleasure.
Her mouth moves so quickly to take in my hard cock. I feel her there and then, just as her lips curl around my length and start to consume me. I blank my thoughts and just wallow in the sheer carnal satisfaction, my head back and eyes closed shutting other images away just for a few brief moments as I feel her suck and please my body. As I look down I see her take me deep into her mouth, a sexy sight I never tire of watching. Her eyes looking deep at me, how she seems to submit to pleasing me in ways she knows I can't resist. The feeling takes over as I stand before her, I can do nothing but hold her hair, guiding her head into me. My hot member starts to pulse and build as she satisfies my body. I hear moans of her gratification as she builds her own rhythm, and the noise of her sucking with her wet lips and tongue while I still stand watching her take control of me. She has the power as I struggle to think of nothing but such sweet...
...to read the rest of this story please login or
register
to read the full story free.
Read all about the wonderful author: Miss Frolic