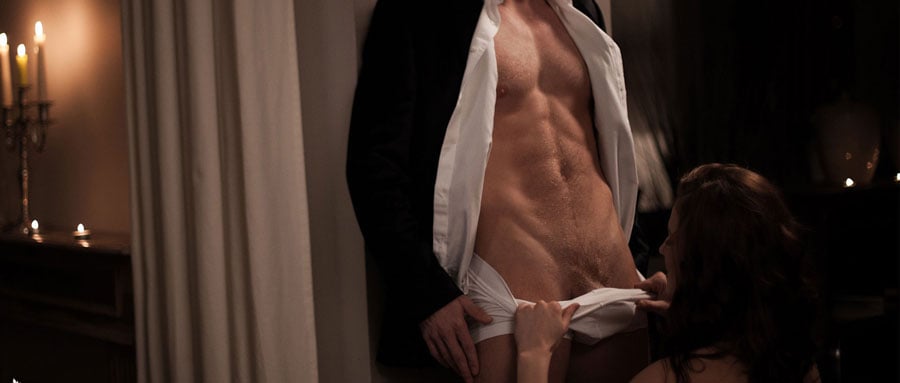 ESCORT AT HOME - Story
A rendezvous with an escort at home
Comment
The exciting sensation of my naked flesh slightly rubbing against the inside of my coat was proving so arousing or was it just my mind teasing me as it allowed my brain to race with thoughts of my appearance. In my deliciously naughty attire, I felt the part. A waist clinching waspie shaped my body enticingly, enough flesh revealing at the top of my thighs to tempt any man before my black silky stockings trailed down into my thigh-high boots. Topping it all, my best accessory, some black sequined nipple tassels, carefully adorned, cupping only my nipples leaving the sensual curves and movement of my pert breasts visible to see. But my look created my own inner pleasure and elevated my increasing excitement. This was as much about me as it was him, it quickened my breath to know how sexual I had become. I wanted the thrill of embodying of a woman of desire, I had removed the mantle of his girlfriend and my new persona was in tack and so ready for attention. This was my sexual fantasy, and he was about to be totally fucked by it. 
What I had on under my coat, he was unaware, but my hidden bare skin was portraying a naughty telltale sign of what I wanted that night. As I moved with conviction, little was revealed in my tall boots, the tops of which hidden under the edge of my mac. I felt brazen and bold and alive with excitement desiring the role of his escort.
My night planned, my oh so sexy but sometimes admittedly a little more serious boyfriend was in for such a treat. Late nights and long working hours, his mind hadn't had the chance to entertain many sexual yearnings, but tonight I wanted to blow his mind. I wanted to be a feast for his eyes and body.
As I strode into his home apartment I scanned the room for my ideal location. Steering him on I turned and pushed him meaningfully against a blank wall, and pressed his back against the smooth surface. This was just where I wanted him. Motionless, he said nothing, but a quizzical look crossed his face, and I enjoyed seeing his eyes soak up my appearance. I stood and looked intently to see his appreciation growing, his eyes increasing with warmth and feeling. I watched as they slowly dropped and left my vision scanning all over my body, looking for evidence of what I might be doing but soon moved back to capture the meaning in my face.
Not losing my eye contact I loosened his buttons, spreading open his shirt to reveal the strong nape of his neck and the top of his muscular frame. I moved closer, inhaling his warm body scent, before trailing gentle kisses across his lusty neck. He showed no evidence of moving, maintaining an intent glare at me through his glasses in a very beguiling fashion. I continued on my assault of his body, unbuttoning more of his shirt deep and wide, revealing his well-toned athletic frame. His beautiful, firm body, ripped and curved to perfection initially masked by his sobering work attire, something that gave little evidence of the desirable torso lurking beneath.
I pulled back the tails of his shirt and continued my descent, opening up the top of his trousers, revealing...
...to read the rest of this story please login or
register
to read the full story free.
Read all about the wonderful author: Miss Frolic