EAT ME - Film
Hot couple enjoy sex on the table
Comment
Having crawled her way, cat-like on her all fours up the table length into the arms of Mr Delancy, she knew just what sexual pleasure she was after, and she certainly got some sex on the table.
Looking the beautifully refined and elegant beauty Katie is, with delicate porcelain skin and deep red lips, she looks completely divine and so exquisite in her small black lace lingerie. Her body yearning for some sexual contentment and delicious pleasure she wastes no time in this video getting close and intimate.
Once in his arms, he soon had her laid out on her back before him, head flung back, red hair trailing, exposing her fine body while offering a naughty feast of sensual satisfaction. He peels away her panties to expose what he was after. Very quickly thereafter some very focused pussy licking, hand caressing and controlled finger fucking was certainly what she received as her body writhed before him.
She then becomes his fuck feast, a delicious offering ready for complete sexual consumption laid out there on the table and she certainly wasn't complaining, enjoying all the indulgence and attention she was receiving. A very sexy cunnilingus and beautiful fingering video which is very feminine and elegantly filmed.
If you enjoy watching Mr Delancy as I know a lot of women do, seeing him take control and having sex on the table, fulfilling her sexual needs you will enjoy seeing his hot finger play and horny pussy licking. A big man who most certainly loves to enjoy his women.
You will also enjoy the earlier prequel to this naughty redhead porn video TEASE ME in which she arouses the lust within him. The arousing story is written by Erika Foxx EAT ME and accompanies this beautiful lingerie porn film which will add greater depth to understanding the relationship of these two lovers and how they find themselves together.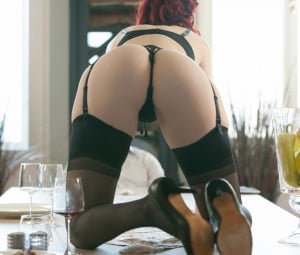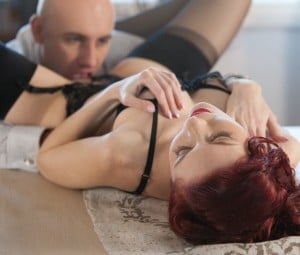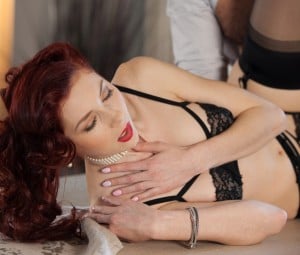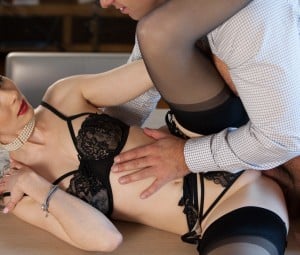 Other Films you may enjoy
Below is a selection of recently updated films and stories, just click on the image to view in greater detail