READY TO LOVE - Film
Sensual bodies entwine as they enjoy some girl on girl fucking
Comment
If you enjoy the pleasures of watching feminine sex, then you will love this erotic movie featuring the gorgeous world of sensual girl-on-girl fucking.
Join Gina and Silvia as they get ready in the bathroom, window open, overlooking the city. Bodies are shower fresh and naked, encouraging the horny vibes to follow as they glimpse each other in the perfectly placed bathroom mirrors. As they catch each other's eye, the focus is pulled from their ablutions to thoughts of some sensual girl-on-girl fucking. The passion and hunger for each other quickly rises, and they begin kissing and fondling.
As the kissing intensifies, Sylvia slips her finger into Gina's pussy, rubbing her desperate clit and building her need for pleasure.
Sometimes plans are best forgotten if the mood turns lustful. The girls trip and stumble through to the bedroom in their rush to capture the heat of the moment. The sultry light of the late afternoon sun casts a delicious glow over the two, lighting up their beautiful flesh, which is shining with a golden aroused sheen.
They fall together onto the bed, legs wrapped over legs as fingers explore. It is such a thrill to watch how these two women's bodies respond to their lust. The tightening of nipples and the nibbling of a bottom lip between teeth all add to the heightened sexy cavorting.
As they break for more sensuous kissing, feasting and devouring each other's flavour, it's charming to see such a loving and fun connection.
Next, it's Sylvia's turn for pleasure and Gina feasts on her full pussy from behind while Sylvia undulates her hips in her face.
Her delicious pussy spread wide. Who wouldn't be tempted to take a good long lick of her delights?
We love to portray good sex between lovers, especially in this sensual girl-on-girl fucking scene where the sex is joyful, hot and above all, satisfying.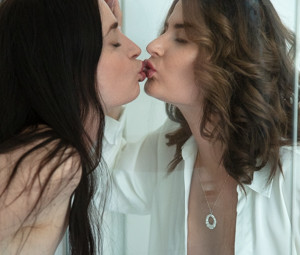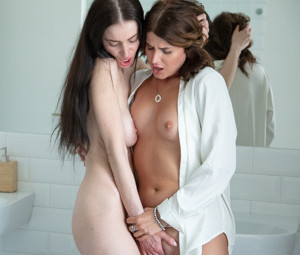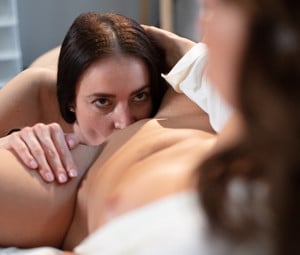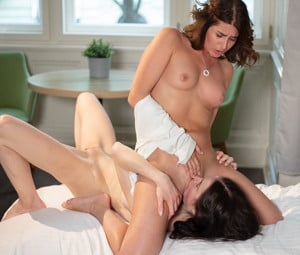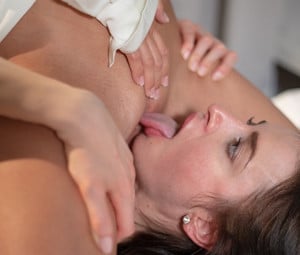 Other Films you may enjoy
Below is a selection of recently updated films and stories, just click on the image to view in greater detail