SELF LOVE - Film
Elegant woman enjoys personal stocking pleasure in her boudoir
Comment
Is she getting ready for an occasion? To meet a lover? It isn't clear, but what we do witness is the beautiful Julia North, taking time out to savour her own body in this lovely erotic film featuring some lingerie porn. 
Walking into her bedroom completely naked, Julia bends ever so slightly to smell the freshly cut flowers on her windowsill, giving us a delightful view of her curvaceous bare bottom. Clearly lost in her thoughts, she sits on her dressing chair and lifts out a gorgeous white garter belt from her drawer. 
Touching the delicate material, Julia fastens it around her waist, the white stocking clips hanging like soft tassels. 
A picture of elegant, feminine beauty, Julia reaches for another drawer and pulls out a pair of fine silk nylons. Rubbing the wispy material between her fingertips, she gently smooths them over her feet, fingers dancing over her lithe calves. 
Now dressed as she pleases, Julia strokes her stocking-clad legs and leans back into the chair, her soft curls brushing over her shoulder. She moves her body as her fingers wander over her nakedness to touch her bare pussy in this erotic lingerie porn video. 
There's something so sexy about dressing in your finest lingerie, taking care of the delicate fabric as you adorn your body. Julia understands the power and seductive quality of these beautiful items and can't help but take things further. Sliding to the edge of her bedroom chair, she pushes her fingers into her sweet pussy. We can feel her arousal and frustration that it just isn't quite enough. When she lifts her white dildo and coats it with her favourite lube, we know she's ready to indulge herself with some delicious solo orgasms.  
Giving over to the lustful hunger that her own body brings, Julia slides the dildo deep inside pulsing and thrusting in and out, mingling her own natural juices with the lube. This is a delightful self love seduction where we see Julia bringing herself off in a flurry of pleasure. 
I hope you enjoy watching this beautifully sensual lingerie porn video of a mature woman's real solo pleasure. For more insight into sexual wellness and mindful masturbation tips, check out our sexual wellness articles in our magazine.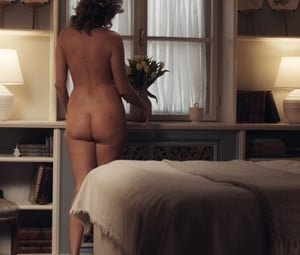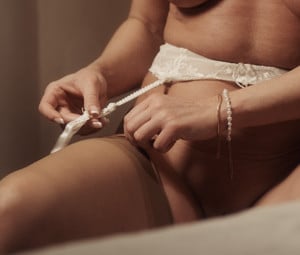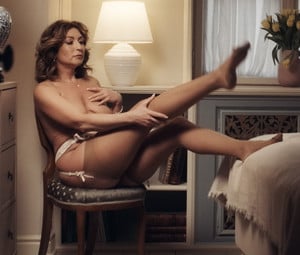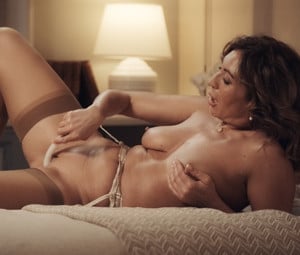 Other Films you may enjoy
Below is a selection of recently updated films and stories, just click on the image to view in greater detail