LUNCHEON - Film
Erotically charged girl and girl sex vintage style
Comment
What sort of luncheon do you enjoy with your girlfriends?
Have you ever found your early pleasantries and intimate conversations move into something far more physically satisfying with some girl and girl sex as Eva and Anna soon discover? What better way to while away your afternoon than with some intimate pleasures and erotic lesbian sex with your girlfriend?
This erotic video has a delicate nod to a bygone era when women enjoyed their lingerie layered with fine full sheer panties and nylons and deep waspie corsets. However, the time had little bearing on the feminine pleasure women would seek privately and the girl and girl sex they enjoyed.
Imagine the planning and anticipation in the morning before you meet. You're about to go for lunch with your favourite person in all the world. You both have a penchant for the finer things in life and so you select your sheerest stockings and highest heels, taking hours to ensure every part of you is in the perfect condition for some heightened erotic play. What's on your mind as you board the train? Most likely the girl and girl sex you'll be indulging in very soon. Those beautiful vintage style panties all sticky and wet with your arousal before you even meet… Oh yes… and you know fine well that lover of yours will be in exactly the same state.
Silk blouses falling gently to the ground and the sting of stocking snappers popping, oh the sounds so unique to that encounter where girl and girl sex is the focus of all of the action.
Wouldn't you love to be the one pressing your thigh-deep in between your beautiful lover's legs, feeling the heat and moisture as she rocks against you, finding her pleasure on your pristine French heel nylons, such perfect lingerie porn.
This is the ultimate feminine exploration with our fantasy women fulfilling their every pleasure.
Oh to plan a luncheon just like this one…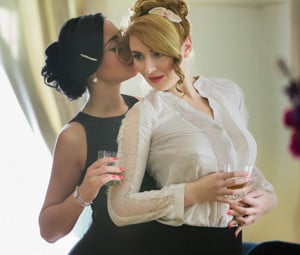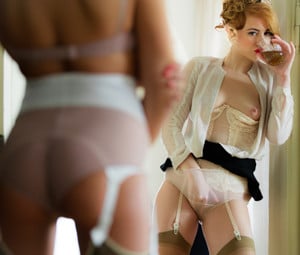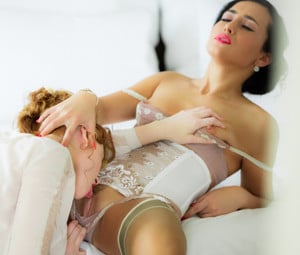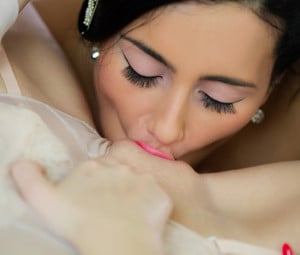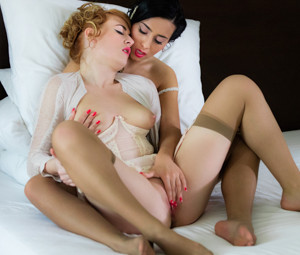 Other Films you may enjoy
Below is a selection of recently updated films and stories, just click on the image to view in greater detail