ENGLISH GARDEN - Film
Two beautiful girls enjoy explicitly naughty sex together in the garden
Comment
Enjoy this beautiful lesbian sex video of pleasure and feminine sexuality with girls enjoying explicitly naughty sex in the garden.
Of course, women are at a huge advantage sexually by understanding how to drive another woman wild when it comes to good sex. Knowing what triggers that feel-good factor—where to touch, stroke, lick and arouse to induce pleasure and ultimately orgasm. This film is no exception—Lola and Cherry really know how to get each other going and pull out all the stops to ensure they both have the best time romping and fucking together outside.
This film takes place against the backdrop of a beautiful English garden where the women indulge in some glorious explicitly naughty sex al fresco.
The stunning background matched by their delicate underwear and gorgeous bodies makes this a sensual delight in every way. With birds singing in the trees and shrubs, punctuated by the groans and sighs of the lovemaking, you can almost smell the fragrance of the flowers in full bloom all around.
This is just a lovely joyful film, celebrating the delicious earthiness of sex outside with someone you truly adore and have fun with. The women amp up the naughtiness by introducing some glass sex toys into their play. You can't deny the heat and lust escalating when Cherry pushes out her ass for Lola to slide in a sumptuous butt plug, calling out words and sexy noises that tip us over the edge, indulging in sex with sex toys. It is clear the women really embrace their sexuality and take pleasure in each other with complete lustful abandon. We are even treated to some double penetration when Lola makes love to Cherry with a long glass dildo while she is still filled up by the butt plug in this naughty anal sex porn film.
An extremely erotic and beautiful lesbian sex scene in the garden for you to get lost among the flowers and passion for a while.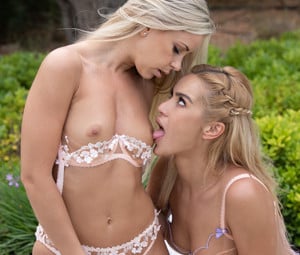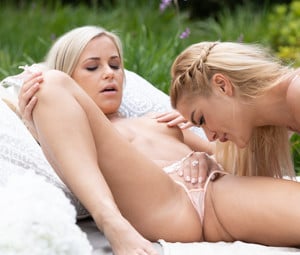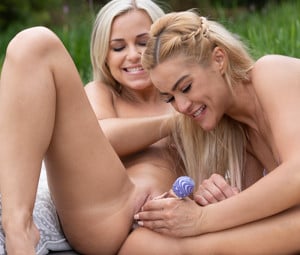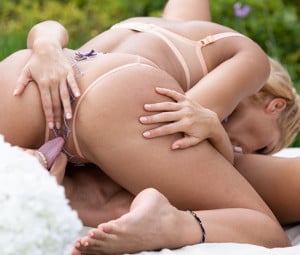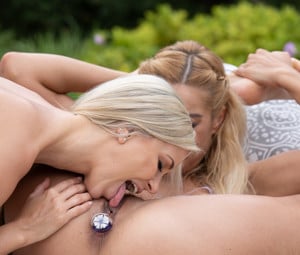 Other Films you may enjoy
Below is a selection of recently updated films and stories, just click on the image to view in greater detail