CAMERA READY - Film
Couple enjoy the fun of some dress up sex
Comment
She's so ready to pose for her man. And wouldn't you be too, all dolled up in kitsch 1940's get-up, playing the part of a sexy vintage siren. With a tight little red satin blouse shaping her body, accentuated by her cute braces channelling into her slim pencil skirt, she is certainly working her outfit hard for the camera. Her black gloves add the air of an elegant wicked temptress as she cavorts for her photographer. Each pose and move is deliberate and provocative. It's all about the fun and build-up to some naughty couples dressed up for sex.
Inhabiting her role fully as a gorgeous temptress, you know there's only one thing on her mind as she commands the full attention of her lover as his eyes and lens roam around the room, following her every damn move.
Kicking up her heels to her pert bottom to display her oh-so-saucy fishnet stockings, you can tell she is most definitely adoring every part of her dressed up sex fantasy. The hair, the shocking red pout as she goes to her lover, distracting him from the business of photographing her to take in his luscious lips with hers. These two really do look the part, and as the chandelier sways above them, we are drawn into their hypnotic movements that blend so perfectly in time with the music.
Things soon heat up, and as she pulls out his already firm erection and the music fades, we know just what sounds will take over, and our leading lady is in no mood for a preamble. Turning to lift her skirt, she leans over the bed, displaying her already dripping pussy for her gent to slide that delicious big cock inside. They are both ready and desperate for some very hot and passionate dressed up sex, and that's exactly what they're going to have in this very sexy erotic movie.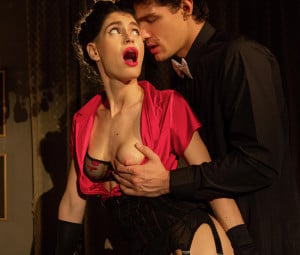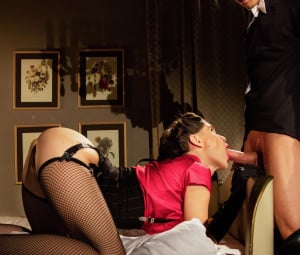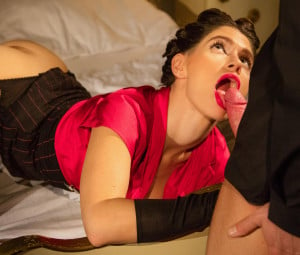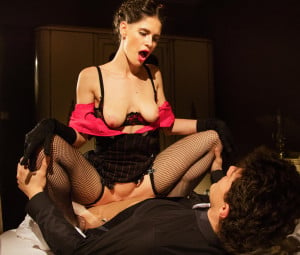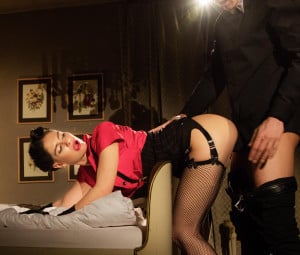 Other Films you may enjoy
Below is a selection of recently updated films and stories, just click on the image to view in greater detail