SINFUL PLEASURE - Film
Kinky couple enjoy the heightened thrill of blindfold sex
Comment
There is an instant air of erotic frisson as we watch a set of black gloves being carefully pulled on and smoothed into place. Then, the growing tension as Sybil waits, her eyes shielded by back silk, her naked body carefully poised, her hands resting upon her knee. Smeared across her chest in sexy red lipstick are the words, USE ME. It's clear this is no spontaneous moment; there is a ritual like quality, an agreed protocol for some blindfold sex they both get off on.
Imagine the anticipation of a planned sexual scene, with two leading roles—the dominant and the submissive. Each playing their part to ensure pleasure is both given and received in a beautifully orchestrated power exchange.
With blindfold sex, every other sense is on high alert. Hearing becomes heightened so you can differentiate between the sound of a belt being drawn through loops, or the drag and pull of a mask being slid over you lover's face, adding an extra dimension to this dark fantasy. Leather squeaks, a hand at the back of your head guiding you forward to the musky yet unmistakable scent of your lover's straining cock.
You know the taste—your mouth watering already. Obediently you stretch your lips over the dome and slit, that sweet jewel of precum coating your tongue. Use me indeed. The dominant then treated to a deep throat experience before bending his submissive over the arm of the sofa and fucking her senseless in this erotic BDSM film.
This is a beautifully curated scene and erotic movie featuring lovers who know exactly what they want and expect from some extremely hot and erotic blindfold sex.
Sybil remains blindfolded throughout, leaving her pleasure in the extremely capable hands of her real-life partner and lover Charlie, who knows exactly when to ramp up the heat or to withdraw. She can simply be in the moment, experiencing and indulging in her sexy fate at the hands of her masked lover.
Do you dare to plan for some Sinful Pleasures of your own?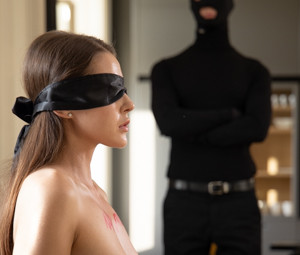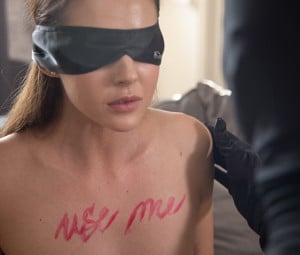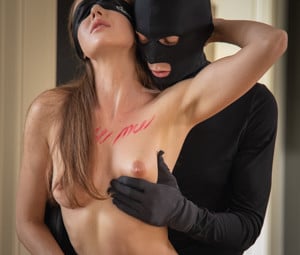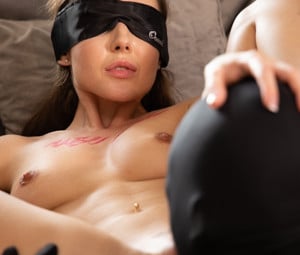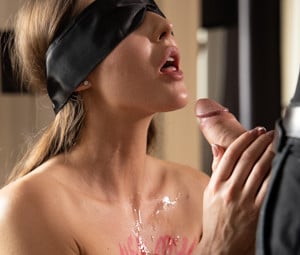 Other Films you may enjoy
Below is a selection of recently updated films and stories, just click on the image to view in greater detail