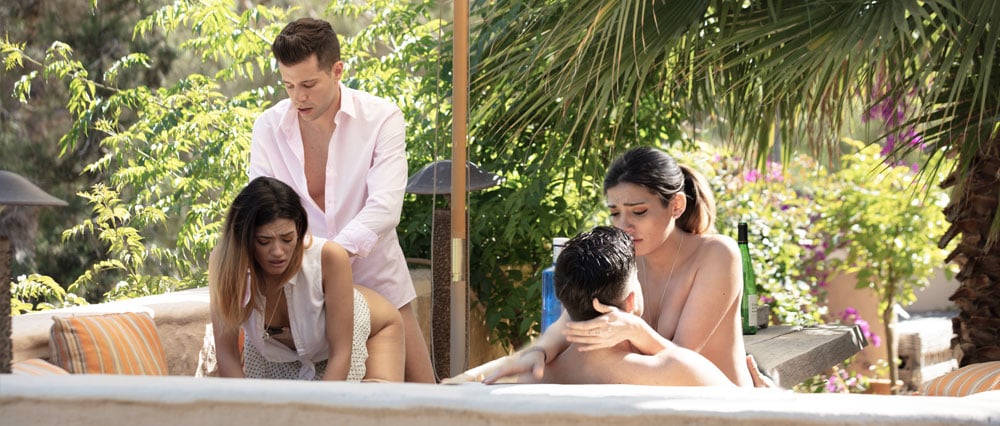 TWINS - Story
A story on the erotic pleasure of watching others have sex
Comment
Monica and I used to do everything together. I guess that's kind of standard when you're identical twins, but with us, it went on until we were into our twenties. Until I met Nick, really.
Nick swept me off my feet. He's so different from me, and yet we work well together. He is adventurous, always craves excitement. Monica and I were nothing like that. We preferred beach holidays rather than trekking through some wilderness. But with Nick, I discovered a love for adventure. Our holidays turned to wild water rafting, mountain climbing, swimming with sharks. It didn't hurt that Nick is loaded and loved to whisk me away to exotic places. Not that I'm complaining…
After a while, I started missing the holidays with my sister, though. She had found herself a boyfriend as well. Alberto was a banker. Rich and successful, but risk-averse and not at all adventurous. I knew there was no way I could convince Alberto and Monica to go on an adventurous holiday with Nick and me. So I suggested to Nick that we go on a relaxing beach holiday with my sister.
"It's going to be boring," Nick complained. "What are we going to do all day?"
I shrugged. "Relax. Read. Drink. Lie in the sun. Swim in the sea. We've been so busy lately, a holiday like that will be perfect for reducing our stress."
"I reduce stress by staying active," Nick pointed out.
"We can still go snorkelling or diving," I countered. I had my eye on a villa in the Maldives where the water was perfect for scuba.
"Diving would be nice."
I could hear Nick's resolve wavering. I stepped closer and ran my hands over his chest. "And we can have sex. We're always so busy on our adventure holidays that we don't...
...to read the rest of this story please login or
register
to read the full story free.
Read all about the wonderful author: Isabelle Lauren