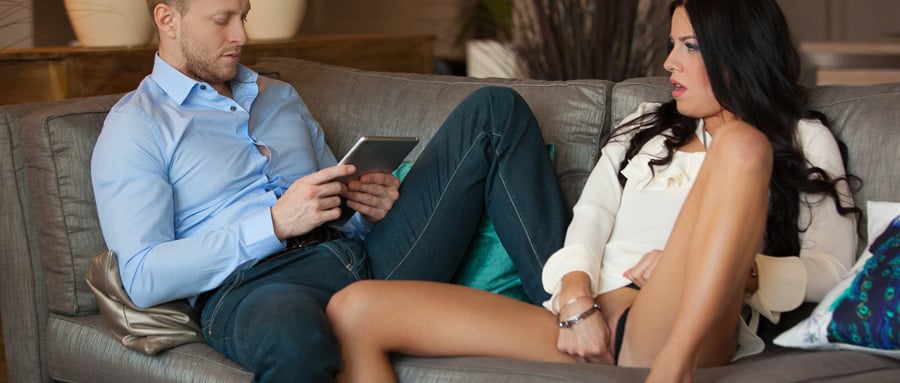 FINGER FUCK FUN - Story
Gorgeous brunette arouses her boyfriend and lesbian lover
Comment
It was all my fault. I'd let my mind wander through the entire business planning meeting this morning. But it was Lenya that started it. As I'd watched Lenya gently teasing her ballpoint pen between her lips and into her sweet, pouting mouth in between taking notes – the pen slipping over her slight, lip-sticked smile, in and out, her tongue twirling a caress around its tip as her eyes locked deep in work-mode concentration towards James, leading the meeting in his tight pale blue shirt and sexy jeans. Lenya was unaware of the way she was arousing me of course but it was too late by then. Beneath my tight pencil skirt, I knew my black silky panties were already slick with the evidence of my excitement and my pussy lips were pinkening with the throb of my desire. It was all I could do to stop myself tracing my finger slowly up my inner-thigh, past the nude-lace of my hold-ups, until my freshly-manicured fingernail met the warm flesh at the top of my thigh, sending shockwaves of sensual electricity through my body, and onwards, towards my wanting clit. It was of also at that moment that James broke-off from his commanding business presentation to ask me a question….
I stumbled through my answer. I stuttered the projected sales figures. I mumbled the incorrect projection – and our potential deal with a new client fell apart there and then. And yes, it was all my fault. Afterwards, I apologised as best as I could. It was James who was most furious with me – and not in the mood to accept my words of remorse. But in the confines of the office, I could hardly tell him the truth of what sexual fantasies had been whirring through my mind that morning… But now we were home and it was after business hours, I needed to not only apologise properly, I needed to make it all right again. Between the three of us. Just like it usually is, with group sex.
Sat on the sofa, relaxing, James doing his usual work-research (or at least that's...
...to read the rest of this story please login or
register
to read the full story free.
Read all about the wonderful author: Elsa Vingtseven