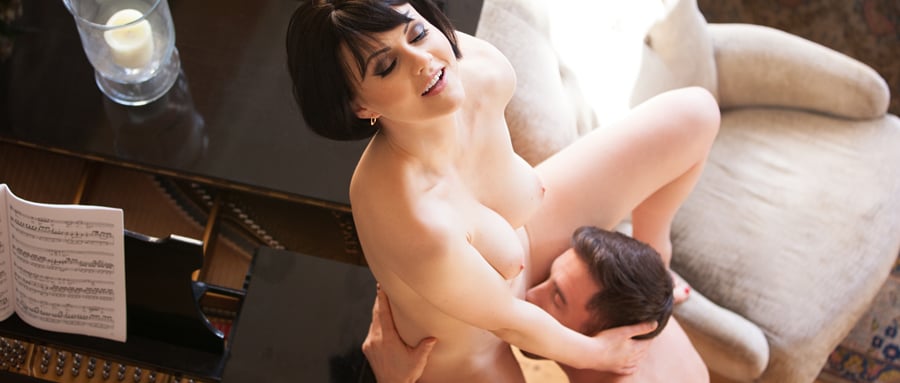 PIANO SEX - Story
Horny lovers fuck on the piano
Comment
The elegant sound of Chopin's Nocturne Opus 9. No.2 wafted through the quiet morning, rising her from her slumber. The mesmerizing nineteenth century melody drew her into the vast ornate living room. It was one of her favorite pieces growing up—she would recognize it anywhere. But why was it playing now? Everyone had left. She approached the baby grand piano, surprised to find her gorgeous lover from the night before seated shirtless behind keys. "You play Chopin?" He smiled, but didn't say anything. She took a step closer and the music suddenly stopped. She paused, then allowed the comforter she had wrapped around her naked body to fall to the floor. His eyes roamed over her gorgeous shape, taking in the soft curve of her hips, and her full, taut breasts under her short dark hair. She reached her arm out and gently caressed his forearm. "Care to practice on me instead, maestro?"
She caught his wicked grin as he took her and pulled her down onto his lap. First Movement. Adagio sostenuto. There was something peculiar about his continuous smile, but she let it go as the fingers of his left hand quickly wrapped around her and found her clit, as easily as if finding middle C on the piano's keyboard. She threw her head back and moaned, remembering the exquisite sensation of his hands on her body the previous evening. Her new lover had expertly brought her to orgasm repeated times under his skilled touch. She now understood how he had been so good at his hands… he was a pianist.
Truthfully, she hadn't asked what instrument he played—it simply hadn't come up. They had met at the cocktail party for some of world's most talented musicians in this elegant estate the night before. They spent the evening eyeing each other across the room while celebrated virtuosos from across the globe performed for the intimate audience of benefactors. She selected a Tchaikovsky violin concerto for her own performance, which was met with high regard. After nearly all the guests departed she noticed him still hiding in the shadows of the vast drawing room. She assumed he was with one of the orchestras. They wordlessly approached one other. He silently reached out and took her hand and led her to one of the mansion's many bedrooms, where they spent the hours until dawn entwined in divine harmonious rapture of romantic sex. Two musicians drawn inexplicably to one other's inner cadence. It was entirely out of character for her to have a one-night stand. Yet, she couldn't deny the pleasure she felt being with him. Come morning, it seemed they were the only...
...to read the rest of this story please login or
register
to read the full story free.
Read all about the wonderful author: Sidney Sitravon