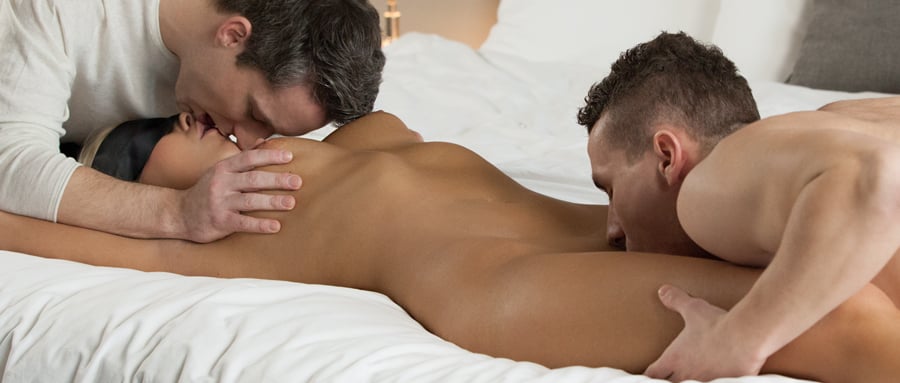 BOY OH BOY - Story
Erotic blonde MMF story
Comment
Over our many playful sessions, I couldn't help but enjoy seeing my boyfriend Tom explode with my thoughts and acceptance that one day I would be more than up for enjoying a naughty MMF threesome, group sex. I would watch the widening of his eyes, how they would swell and burn with excitement when I teasingly mentioned it, I knew it was something Tom wanted to explore with me, it was so up there on his list of fantasy moments. Even watching his attentive behaviour to me after that was always a giveaway sign of his growing interest in the topic and one that never went away. I even enjoyed toying with his mind over a naughty sex text or two while he was drawn into lengthy work meetings, something that must have thrown him off course diverting his mind. He knew I was always fairly adventurous in the bedroom, I think that was always one of my biggest draws about me. I enjoyed sex, I enjoyed pleasure and we enjoyed each other.  Certainly, over the many months, we had got more intimate and relaxed enjoying a full and varied sex life, whether with numerous toys and kinky BDSM paraphernalia through to our many spontaneous meets in random locations.
A few days previously his younger stepbrother had come to stay from college, nothing so unusual in that, although he was soon to head away travelling so I possibly wasn't going to see much more of him for a while. A nice enough boy, though boy I always felt he was even though he was such a strapping young man now, certainly this time he seemed so much bigger, stronger than last time we met, he still had an air of shyness about him when he was around me. I sometimes just caught him staring rather than joining in much of the conversation. But I liked him, he was young, a little over 22 years, fit and I definitely felt there was more to get to know and nothing I didn't dislike.
One morning all freshly showered I sneaked my way back to bed as feeling deliciously clean and horny. I knew I would get some very focused attention my way if I lay on my back showing my recently tanned naked figure off it to its full potential. Unsurprisingly hands were quickly upon my breasts, gently stroking at first, moulding their shape. Soft and gentle touches, they tingled and aroused my first senses.  Tom's mouth wasted no time joining in the sensual pleasure, planting kisses on my skin before venturing to my lips. His kisses were so engaging and were such a signature of him. I always thought I could tell a man by his kiss with or without looking.
The gentle kissing quickly gave way and next I found him straddling my torso tight, I felt his hard cock bearing into me, I loved his constant keenness and how turned on he always was. He was a man in charge of fucking me and I loved that look he gave when aroused for sex. It tweaked at my inner self and his reactions were to grab my arms and take them over my head, bearing down his body so my full breasts squashed against his firm muscular chest while he pinned back my arms, devouring my mouth with his moist lips.
Click here to listen to my new audio porn stories...
I wasn't surprised in his horny state that he had more plans in his head and my eyes were soon getting covered beneath my black blindfold he had stolen from the drawer. I was certainly not opposed to having my pleasure in such a fashion. His warm salty wet kisses continued and now all my focus was on the location of his lips and where they were travelling to, his touch became more intensified for not seeing his actions, my skin alert to his movements.
Down my body I felt his touch, every nerve ending was tingling and sending rapid messages to my brain and my inner core. My pussy began to pulse, just gently at first but under its own control, sensing and reacting to his body movements. Oh, I loved how I was so in tune through our sex, and I was ready for whatever was coming next. Hands stroking down my legs, and up again, I flexed my body deep into the mattress taking in all the sensations I was receiving. They seemed more rapid and different tempo, but I thought no more. The bed creaked a little as I felt his body shift to move closer to my face and our lips mashed together our tongues working each other.  I lost myself with my mouth and lips and it was a few moments later I realized that my pussy was not just reacting to my kissing, it was exploding under the sweet tongue that was stoking its swelling lips. Ah, the sensation between my thighs was growing stronger, it was intoxicating. My mouth full and longing, my pussy equally absorbed in such pleasure, the combination was sending my body quivering. I didn't think, I didn't stop, I didn't care, I just simply enjoyed, I melted my body into the heady moment.
My kisses stopped and my blindfold was loosened so that it slipped off, sparking my eyes and making sense of what I was feeling. He was there between my legs looking straight at me, the boy I thought too young was neither smiling nor expressing any sign of emotion but as we looked at each other, a small glimmer warmed his eyes and I smiled back in response.
Oh, but what was I doing? In my mind flashed questions like "he was such a young boy, and his stepbrother, how can I look at him again, and he has his face between my legs?" Yet here he was nestled into my throbbing pussy and ensuring she was worshipped and pleasured. It was too late to feel any form of morality, he was old enough and more experienced I felt that maybe I had ever given him credit for. Not that I had received any telling sign. But this was a seductive moment I was enjoying too much to have a conscience. Looking across for reassurance my naughty lover was lying back so enjoying the scene and lapping up the erotic pleasure it was throwing back at him. I could see how horny Tom felt the moment was, watching me being licked and kissed deep into my pussy while I lay there naked before them both.  The pulse in my clitoris began as his fingers toyed with my perfect spot, the feeling sending spasms through me, they both could see the moist skin glistening between my thighs as they jointly massaged and fingered me, the sensation growing ever more intense. I kept glancing at them both, two such different men but both equally involved in the same pleasure I was receiving.
Keeping my eyes fixed on my lovers look I rolled over to take Tom's cock from out of his pants, and with a wet slurping lick, I took his well-sized shaft into my mouth. I could see how hard he already was, stroking himself earlier while he watched me get licked for the first time ensured he was stiff, but I knew a few tricks to get him even stiffer. Sliding his erection in and out of my mouth causing him to moan just fuelled me on. I wanted to taste him, I felt so horny I was wonderfully alive and so charged for more pleasure.  Letting my teeth scrape down his cock while giving him a look of pure wickedness. Then with one deep thrust, I felt a cock deep inside my wetness. My pussy began responding to the delving thrusts of an unfamiliar cock. At the same time, I kept myself focused on the cock head but a few millimetres from my eyes. The combination of getting fucked while sucking pushed my aroused body into a further state of bliss. It had all the ingredients, pussy filled and stretched, enjoying the feeling as he slid in and out of my wet tightness, my mouth reacting so wet and slippery and giving in return.
With both boys lying before me I delighted in driving my mouth deep onto each of their cocks in turn, holding their shaft, taking it in turn to hear their moans of pleasure, working Tom's step brother's cock I couldn't help but notice a trail of spittle mixed with precum linked his cockhead to my tongue for a brief moment. He was on the edge, his concentration evident his cock like rock and needing to be fucked again.
Lowering my pussy down I wanted to feel him again, and I began to pound into him, the sound of my pussy slapping into his balls I could see was driving Tom crazy. His eyes delirious with pleasure. In turn, he teased my clit with his finger, pressing harder as I slapped our bodies together while I continued to wank his cock, feeling it constantly tweaking in my hand. My clit felt on fire, electricity seem to surge through my body creating more stamina with our fucking. Here I was with his young stepbrother on his back being fucked by me. His cock raging and it plunged repeatedly into my burning pussy. Before it all became too much I swapped boys, knowing Tom was ready for release and my pussy craved his feel and was ready to explode. Rocking deep and regular we continued until I felt him fill me, pulsing into my body triggering a tightening deep in my muscles and the waves of my orgasm flooded out.
Seeing Tom's stepbrother still intense watching us fuck with such an intense need I took him in my hand and ensured with just a few strokes he came hard and fast, masturbating his cock until he was shooting his cum over most of his body. Our bodies damp with such exertion, and the smell of sex was all around us.
THE END
Read all about the wonderful author: Miss Frolic