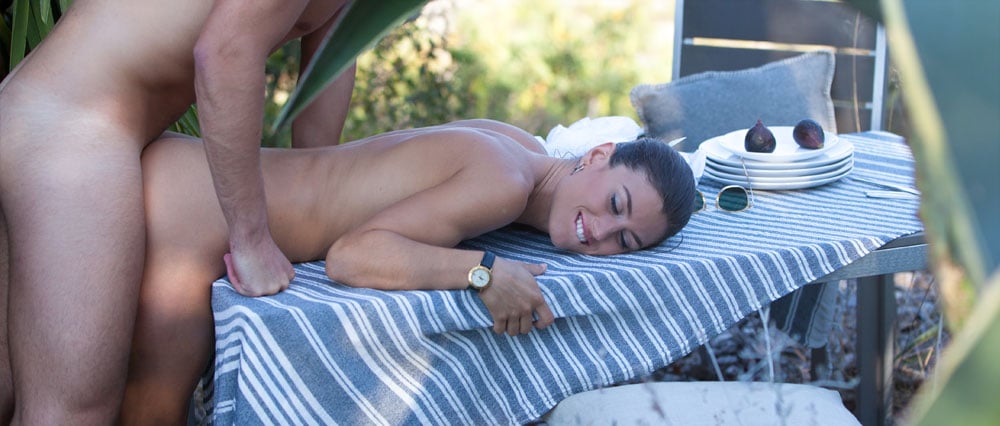 STICKY FIG - Story
Erotic sex story of lover's meeting outside to fuck
Comment
"And this… is my daughter Carmina," my proud father smiled as he introduced me to Miguel.  I was nineteen-years-old and it was the end of summer.
"Nice to meet you, Miguel," I responded, somewhat abashed.
Wearing a pretty, white dress and my hair tied up in a ribbon, I'll never forget the way Miguel looked at me the first time we me. But you know how it is; good, little rich girl meets handsome, young bad boy and she's like a moth to a flame. He was eighteen-years-old, with a sparkle in his dark-eyes and working on my father's vast swathes of farmland up in the hills. My darling father had spent the day overseeing the harvest, figs in one field, almonds in another when I'd gone to call him into lunch in his favourite spot – an outdoor table set in the shade of the cactus.
"Perhaps we'll meet again, Carmina" was Miguel's assured reply.
His eyes scanned up my lithe teenage legs, my wide-eyes, my full-mouth, my lips parted slightly with intake of breath as I registered this smouldering youth's desire for me… A desire that, to this day, has not gone away. And can only ever be satiated in the heat of the sun… With outdoor sex…
Even now, Miguel likes me wearing white for our romantic sex escapades outside. It's virginal he says. He prefers me looking innocent with my hair tied up in a ponytail complete with a girlish ribbon – it's reminiscent of the first time, of course. Yet he knows now that I'm far from innocent, especially when I'm with him. It's a far cry from my usual look of city-fashion-chic that I wear in Madrid… but when I'm back to visit my father, and to see Miguel, I know what makes him tick. The landowner's daughter and the farmhand… that's...
...to read the rest of this story please login or
register
to read the full story free.
Read all about the wonderful author: Elsa Vingtseven