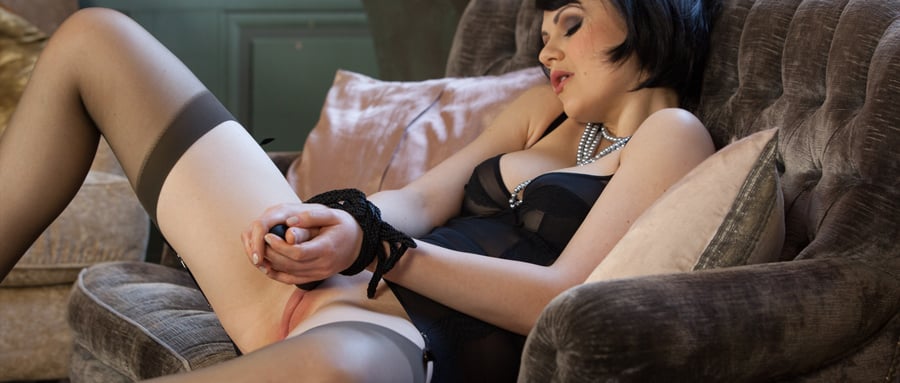 KINKY FUN - Story
Hot kinky sex stories
Comment
My mouth stretched wide, my teeth unable to meet, no words can utter forth, the uses of my mouth restricted. I feel the slow trickle of wet liquid seep slowly from my mouth down via the corner crease of my lips and I can do nothing about it, my ability to suck and draw back the saliva impeded. This ball is taking charge, this other object gagging and filling my mouth and even impacting on the muscles of my throat. The tie, is firm against the skin of my cheek. This is how I sit before you. Tell me what you want to see and how you wish me to behave?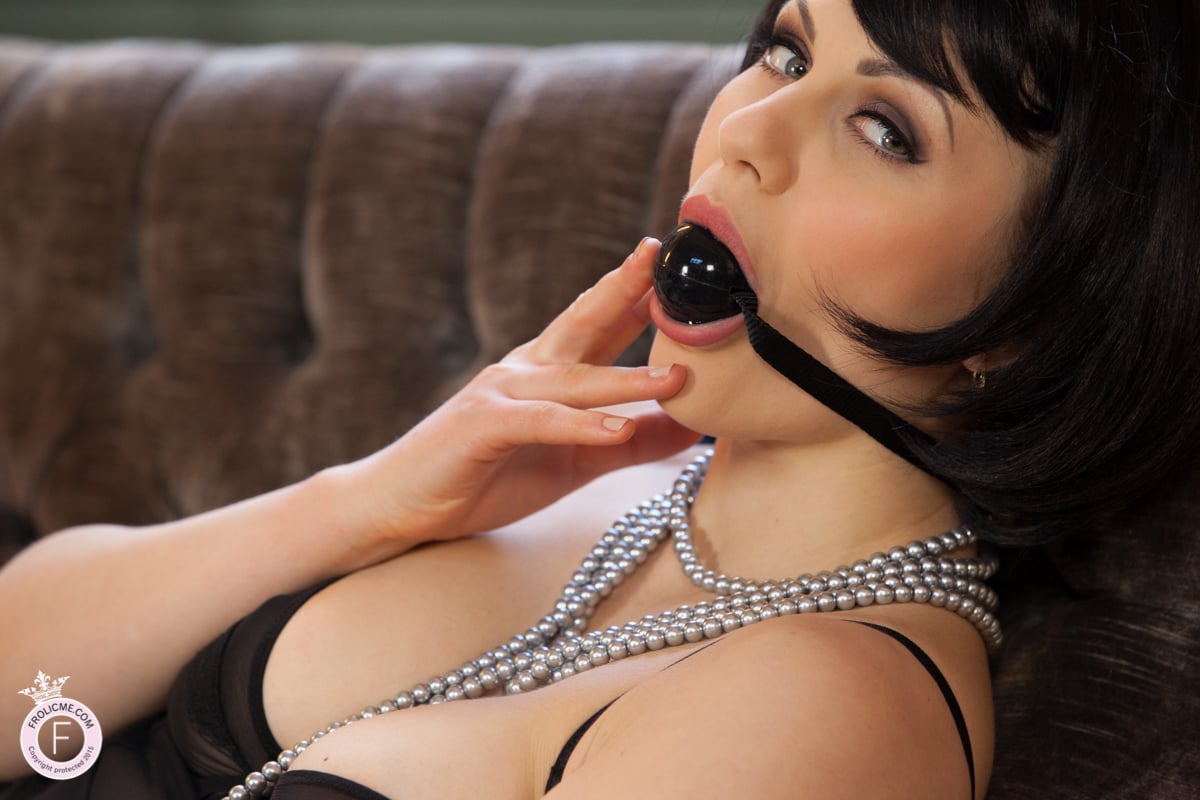 Something I used to hear my aunt say to me, "darling, never judge a book by its cover". So little did I necessarily understand then, certainly not in any depth, however those wise words now just bring me to smile a deep inward smile. You may wonder who I am telling you this story, speaking my words, so a little about me perhaps to make you understand my quiet inner fetish pleasure.
I am a more mature than not lady living what most would describe as a mid town life rather quintessential in many ways and certainly in style and nature. I enjoy many simple regular pleasures, gentle strolls in morning sunshine and cups of delicate Indian tea in elegant porcelain teacups. My image has a signature style often in dark somber tones, I wear my hair tidy and neatly bobbed and my dress sense could be thought of as a little prim in part, fitted dresses featuring neat nipped in waists, my style simple, practical with my trademark grey pearls that I rarely leave behind. But all of this is just a cover to my regular life. Behind this mantle of everyday propriety lurks a woman with a fevered, festering mind, awash with fetish thoughts and kinky desires. My release is in my words, as I beaver away at night writing up the scenes and acts, the kinky sex stories that burn in my head. They are devilish stories that awaken my body and scream for attention. For yes, I am a writer, and one who secretly hides behind an unknown name, a pseudonym of a woman who hankers after lust and desire and arousing pleasure.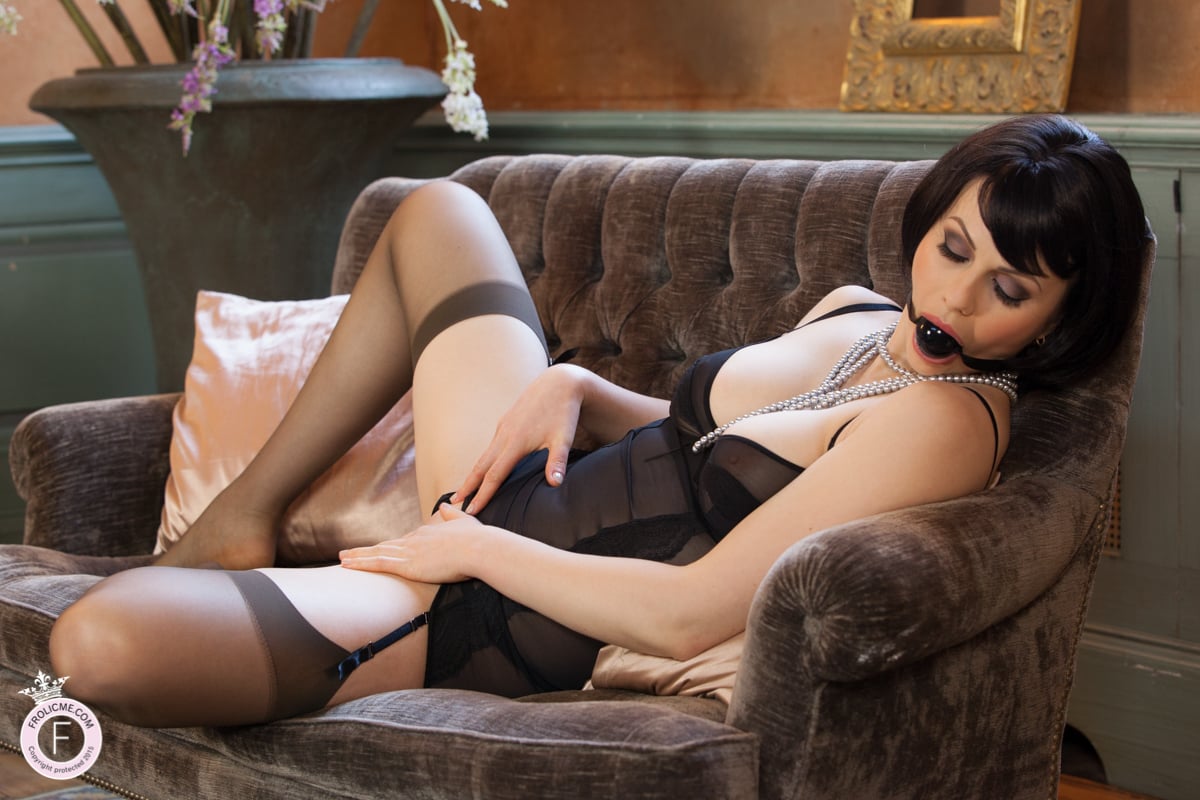 Click here to listen to my new audio porn stories...
I see myself, shed from my regular apparel scantily clad in a sheer controlling body piece, with stocking legs reclined on my deep velvet sofa craving to be bound. I am no longer that demure woman but one who wants the feeling of restraint, of sexual control, to feel the tension of the rope tight around my wrist, biting as I subtly move my position, a reminder that I am restricted in my movements and I am here for another form of pleasure. I open my legs to feel a soft breeze blow against my exposed pussy, my lips tweak as they revel in their exposure. I wear no panties and open my legs wider to feel their delicious vulnerability, offering my body to be used and touched. My thoughts are only focused on pleasure, the feeling of stimulating my body, I reach for my dildo and touch my already wet lips. My head flung back the pulsing action beats instantly through the folds of my skin into my sensitive clit. The throbbing vibration channels my mind, my arms not moving and I am taken to another place, as my body grinds itself deeper onto this black rubberized tool I carefully maneuver between my bound hands. I spread my legs wider, the view I imagine, the image of myself being used and tied. Now that feeling of being fucked as I penetrate my body deeper and deeper and it swells my lips and releases sudden jolting movements in my body as it responds to pulsing rhythm.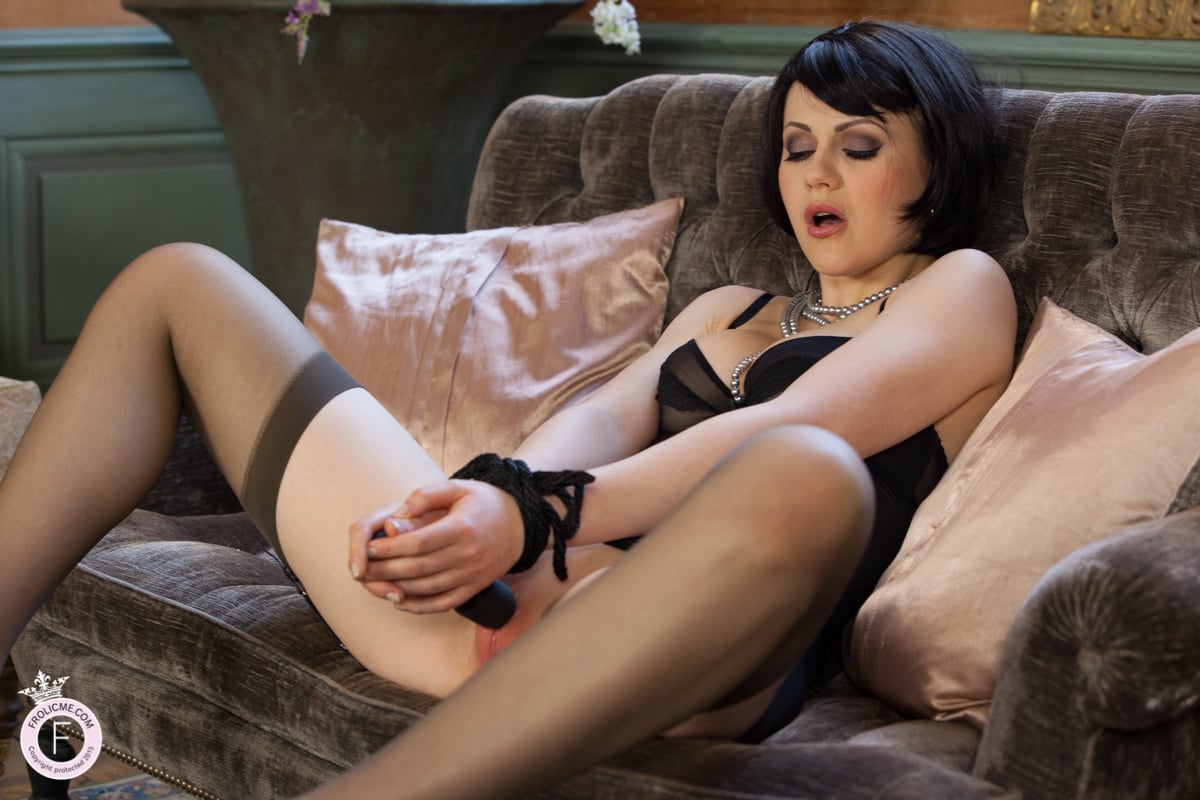 Now all is dark, no light peeks into my vision, I have lost all sense of sight, and can only rely on touch and sound. I love how quiet it all seems, and listen more intently to hear any noise whatsoever as I recline on my sofa, my hands still locked in their position before me. I feel removed from all other elements within my room with just the powerful pulsing of my vagina lips responding to my attention and touch.
My mind sinks to thoughts of my lover standing before me. He is calm with his requests, and watches my body intently. His demands are simple but explicit. He wants to see how my body reacts, he wants to see each simple move, twitch, pulsing part. How my juices moisten my charged dildo. He wants to see how my lips begin to swell, how my legs part wider and wider for his inspection and how that in turn turns me on. When he feels I am ready, then he lets me cum, sending deeper waves of intense feeling pounding through my body that I feel are his to control and demand.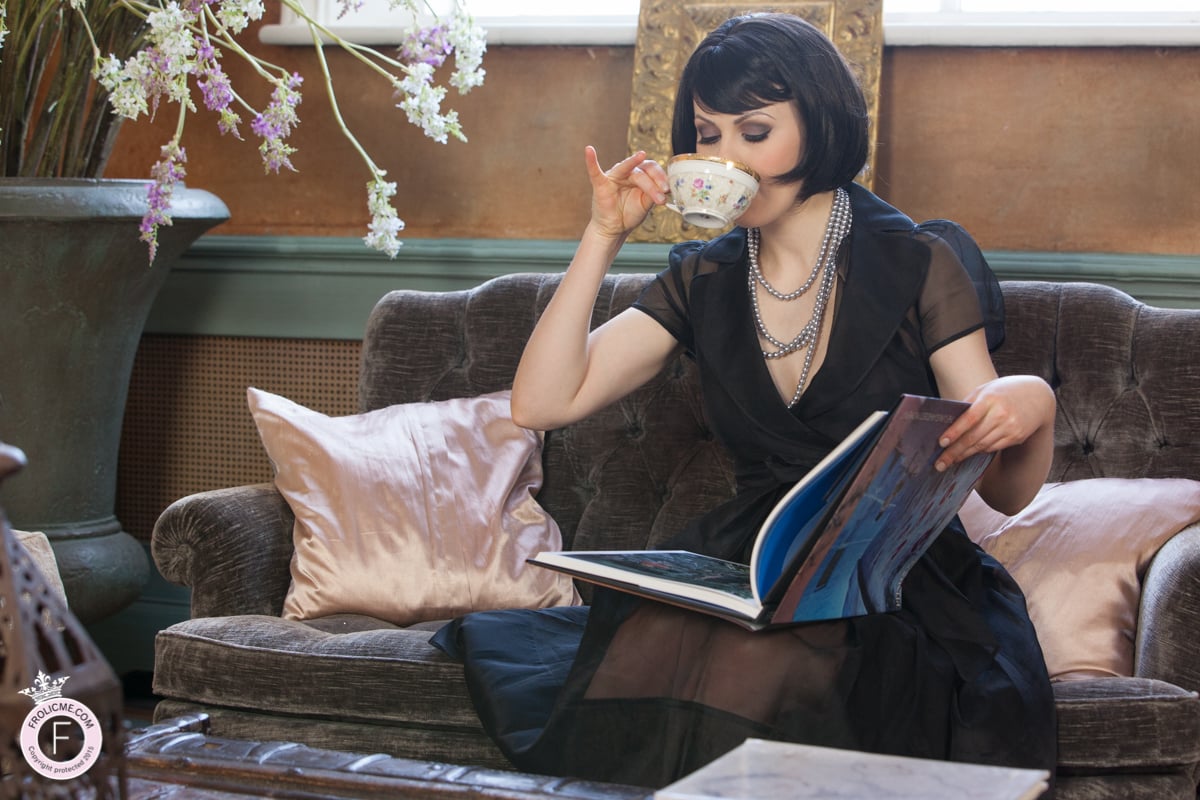 And so I find myself once again back at my elegant velvet sofa, with my delicate china cup in hand sipping gently at the refined drink. Who would ever think what fevered fantasy lay inside me, that is for me to know, until later when I sit at my desk and beaver away on my keyboard, then my thoughts come to life again.
THE END

Read all about the wonderful author: Miss Frolic