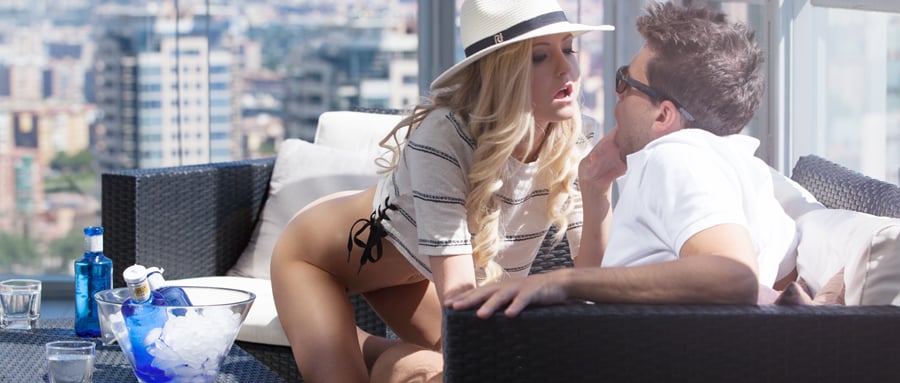 FUCKING HIGH - Story
Living out a fantasy by fucking a stranger on the roof
Comment
I didn't miss the way they looked at each other. I would have been blind if I'd missed those flirty glances. My pretty, blond hotwife, Sicilia, always got giggly when she developed a new crush, and European guys were always her weakness. Andreas fit the mould—young, fit, dark-haired, handsome. And interested. As I said, I didn't miss their looks.
We'd arrived in Barcelona in the late afternoon. The flight from New York was direct but long, and we ended up grabbing an early dinner and crashing. That's when we first met Andreas, although we never actually met him. He was having dinner in the hotel restaurant as well, eating alone. I sat with my back to him but could make out his reflection in the polished, white marble wall. And of course, I could see the way Sicilia kept looking past me, smiling, batting her lashes.
"You like him, don't you?" I asked.
Sicilia blushed, meeting my eyes. "Are you mad?"
"Am I ever?" I asked.
"Sometimes." When she seemed to give more than her body, when the man was too close, when, so lost in the moment, she could slip, and suddenly make me feel like it wasn't about us but just about her.
She ran her finger along the base of her wine glass. "Are you jealous?"
I felt a twinge in my gut. "Not yet."
Sicilia smiled. "We're going to have to do something about that."
Something about that came the next day. Jetlagged, we'd slept in, grabbed a late breakfast, and did a little sightseeing. It was great to get away from our busy lives in New York, but that was only part of the reason we were here.
We ran into the Italian back at the hotel, this time sitting on the rooftop veranda. Again, he was alone. We shared one of the large, rattan chairs, Sicilia in my lap, Andreas at the far end of the rattan couch beside us. It was a safe enough distance for strangers.
I held Sicilia's petite body as she leaned close and whispered, "Him."
It was how the game always began. I nodded, kissing her soft lips. Her lips tasted sweet. Would this man taste her, too? My gut tightened with jealousy. That was part of it, too, of course. An important part. The jealousy. It made the excitement so much sweeter.
"I'm going to lie down, Sicilia," I said. "The jetlag is finally catching up to me."
We shared a kiss, deeper than before. I felt her heat up in that kiss, a hint at what was to come. "Get some rest, sweetheart. I'm going to enjoy the sun a little longer."
I nodded, whispering, "And I'll make sure no one bothers you."
And I left. Which wasn't easy. To stand, smile, and leave my beautiful hotwife behind, knowing what came next, almost always set off a mini-panic. I occupied my mind on other things—locking the doors that led up to this floor, putting a Closed sign up so that they wouldn't be disturbed, then circling around so that I could spy, their voyeur. Luckily, that was easy enough. There was a second story to the rooftop cafe, with windows that looked down on the veranda where Sicilia was sitting. By the time I made it up there, they'd already begun to talk. Outdoor sex was defiantly on the table for them.
"…nice to meet you, Andreas. I believe I saw you last night. You're alone?" Sicilia was wearing a striped summery blouse, short-sleeved and loose, paired with lacy, white shorts that I loved. Even with her hat and sunglasses on, her smile came through.
"I am," Andreas replied, his Italian...
...to read the rest of this story please login or
register
to read the full story free.
Read all about the wonderful author: Kenny Wright
You can also listen to this story