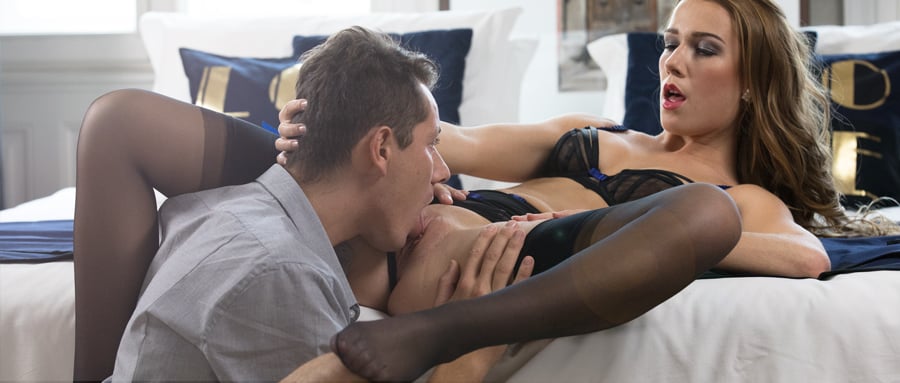 PUSSY LOVE - Story
Forbidden seduction of a young horny stepson
Comment
It was wrong. So wrong.
Nicole lay on her bed, hating herself even as she touched herself. Her heart pounded. What was she doing? Danny was her stepson. He was barely more than a kid for God's sake. But, hell, he looked good. Too good. Young and toned and tan. Dark eyes and hair. That sweet, kissable mouth. An image of him using that mouth on her pussy made her groan, and she couldn't help but slip her fingers beneath her panties to rub her swollen clit. Damn her, but she wanted him. She wanted to show him what it was like to be with a real woman, rather than a college twit with little to no experience. She wanted to blow his fucking mind.
And his cock.
Her moan echoed around the room. The room she shared with her husband.
Danny's father.
She should get dressed. She really should. She had a meeting with her financial advisor in an hour. But as she lay there in nothing but her black bra, panties, and thigh-high stockings, all she could think about was Danny. Closing her eyes, she began reluctantly fingering herself. Slow at first and then faster. Small, traitorous whimpers escaped her as she imagined it was Danny's fingers in her instead of her own. He would be a little shy. A little overwhelmed. And horny as hell. As only a barely legal boy could be.
Downstairs, a door opened and a voice called, "Dad? Nicole? You home?"
Nicole froze. It was Danny. Oh God, it was Danny. He wasn't supposed to get in until this weekend. Her cheeks warmed as she realized that the object of her mid-afternoon fantasy fingerfuck was standing right below her. Her first impulse was to scramble off the bed, get dressed, and go greet him like a normal step-mother would. Maybe offer him a snack. Cookies and milk.
Or her pussy.
Squeezing her eyes shut, she groaned, both from frustration and desire.
"Nic?" Danny called, coming up the stairs. "That you?"
Her heart lurched as dangerous, treacherous thoughts taunted her. She could have him. Right here and now. Danny wouldn't say no. She'd seen the way he looked at her. The way his eyes strayed to her ass when he thought she wasn't looking. Or the way he watched her mouth when she was talking. They could do dirty, dirty things on the bed she lay in. Nobody ever needed to know.
As quickly as she thought it, shame washed over her. No, this wasn't her. She wasn't the kind of woman who had sex with nineteen-year-olds while their fathers were on business trips. She hurried to sit up, reaching for the sheet just as Danny knocked on the open door. "Nic, do you happen to know where my soccer—" His voice abruptly cut off when he saw her.
"Danny," she said, his name an apology. "I . . ."
His dark eyes took her in, and it was clear he knew what she'd been doing. When he spoke, his voice was low. "I'm sorry. I should've knocked."
"It's okay," she stammered, embarrassed and wildly turned on at the same time. "Just let me get dressed."
Click here to listen to my new audio porn stories...
As she moved to get off the bed, however, he interrupted, "Can I taste you?"
She froze, her heart tripping over itself, and looked at him with wide eyes. "What?"
"Your pussy," he said with no trace of shame or awkwardness. "Can I taste it?"
She opened her mouth to speak but found no words would come. Was this really happening? Or had she succumbed to an orgasm-induced coma? She knew it must be real, though, because the Danny of her sex fantasies was shy. Hesitant. A fledgling lover in need of guidance. The Danny standing before her, however, his gaze hot and unapologetic, was a different creature altogether.
And she liked it.
God forgive her, she liked it.
"Your father—" she began.
"Isn't here," he finished for her. "I am. And I want to taste your pussy, Nicole."
The pussy in question was wet and ready for him to do just that, her clit throbbing in response to his dirty words. She should say no. She should scold him and order him to leave. She should get dressed. She should do the right thing.
Instead, she let go of the sheet she'd been holding in a white-knuckled fist and slowly spread her legs, her bottom lip trembling as she waited for him to take what he wanted.
***
Danny stared at his stepmother with hard eyes and a hard dick as she spread her sweet legs. For him. Not for his father, but for him. He'd expected her to be scandalized and throw him out of her room upon hearing his request, but she'd been turned on by it. He'd seen it in her eyes. And in the way her nipples had hardened beneath the black lace scrap of a bra she wore.
He dropped the duffel he'd slung over his shoulder and went to her, pulling off his T-shirt as he went. As he kneeled at the foot of the bed in front of her, her breath caught, and she stared at him with a mixture of shame and lust.
He held her gaze as he pushed her thighs wider, his cock jerking when she let out a little gasp.
"I've wanted this—" He paused to pull her panties aside, baring her pussy to him. "—for so damn long."
"Danny," she whispered, biting her bottom lip.
He didn't wait for further invitation. Leaning in, he pussy licked her.Sucked her. Tasted her.
She let out a low, desperate moan, her fingers digging into his shoulders.
God, she was perfect. Just as he'd known she would be. Pink. Soft. Clean. Sweet. He dipped his tongue inside her slit, nearly coming from the knowledge that he finally, fucking finally, had his face buried between her thighs. He was going to lick and suck her until she came against his tongue. Then he was going to fuck her.
Hard. Deep. And rough. He was going to own her right in his father's bed.
The whole blasphemous idea made his balls tighten in anticipation.
He looked up at her face while he teased her clit. Her head was tipped back, her long blonde hair spilling over her bare shoulders, her mouth parted. She was letting out small, breathless moans, and they were the hottest sounds he'd ever heard. The pride of getting her off—this fine, beautiful, off-limits woman—was all he'd dreamed it would be.
Unable to resist, he slid a finger inside her.
She tensed from the unexpected invasion but breathed, "Yeah, that's it."
He pulled back so he could watch, enraptured by the sight of his finger sliding in and out of her wet pussy, her black panties pulled aside. Clenching his jaw, he added a second finger, stretching her. Penetrating her.
"Mmm . . ." she whimpered. "Harder. Yes."
Danny obeyed, working his fingers harder, watching her breasts jiggle in their lacy cups. After a torturous moment, he leaned back in and added his tongue. They both groaned, the combination of taste and touch almost unbearable. When she came with a loud cry, he sucked on her gently, smiling against her tender skin.
Nicole fell back on the bed, her glorious hair spilling across the crisp white sheets. "That was . . ."
Danny rose, kicking off his shoes and unzipping. "Take your panties off."
She stilled and then slowly, hesitantly obeyed, her long legs sliding together as she pulled down the tiny black panties.
Fully nude, he slid his hands up her trembling body. "You gonna let me fuck you, Nicole?"
A battle of right and wrong warred behind her eyes, but she nodded. "Yes."
Grabbing her hips, he abruptly turned her over, jerking her ass into the air. She gasped and fisted the sheets, her anticipation undeniable. In that moment, she was wholly vulnerable. Wholly his.
This was wrong. They both knew it. It was shameful. Immoral. Dirty.
And, God help him, he reveled in it.
Cock in hand, he mounted his step-mother, groaning as his dick slid into her wet, tight pussy. Nicole groaned too, taking all of him, her cheek pressed against the sheet, her mouth open.
"Is this what you wanted?" he asked as he pushed inside her again. She felt so good. So perfect. So forbidden. "Have you been thinking about me doing you?"
She moaned again but whispered, "Yes."
Her sinful admission went straight to his balls, and he began fucking her harder, the clap of skin and her sweet, helpless whimpers filling the room.
"Deeper," she managed. "Fuck me deeper."
He complied, his fingers digging into her ass as he did her good and deep.
They fucked until they both came, trembling, sweating, and spent. Then they fucked again. And again. In every position. Until he'd tasted, touched, and come on every inch of her. And when it was over, he told her it would never be over. Told her she was his. That the diamond on her left hand didn't mean shit to him. Tomorrow, Nicole would go back to spreading her legs for his father, and Danny would go back to college, but when he returned—every time he returned—she'd give herself to him.
And when she touched herself while she waited for him, it would be his fingers, his tongue, his cock she fantasized about.
It would be their dirty little secret.
Read all about the wonderful author: Moxie Darling