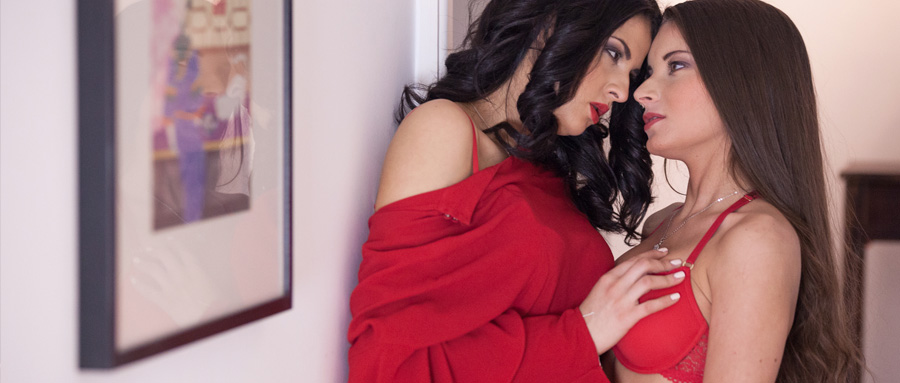 FLASH OF RED - Story
Beautiful female friends get steamy together
Comment
Jacinda Peters was the quiet, shy girl at work. I'd noticed her as soon as I saw her long auburn wavy hair fall loosely down her back. It didn't help my lust when she saw me and licked her ruby red lips. Jacinda was a beauty, and I wanted to seduce her. I invited her to the wine bar around the corner from our offices that evening to get to know her better. It didn't take long for me to find out that Jacinda was attracted to women. What made Jacinda more attractive was that she had very little experience of taking dates further than a few kisses.
Tonight, I was going to change that, tonight I would show her how good lesbian sex could be.
Walking towards the glass doors of my apartment block, I spotted Jacinda sitting on the plush sofa with her legs crossed at the ankles. She was still in her work clothes, Jacinda's pencil skirt had ridden up to show some of her thigh. The cold February evening surrounded me when I approached, causing Jacinda to pull down the hem of her skirt, much to my disappointment.
"I'm so sorry I'm late," I said. "The boss kept me back until all the changes had been made in a report," I explained, bending down to pick up Jacinda's overnight bag.
"That's no problem, Althea, I haven't been here very long," Jacinda said. She stood and tried to take the bag, but I held onto it and walked to the bank of lifts in the corner. Jacinda gave a small, shy smile and followed. As we stepped into the elevator, I caught Jacinda's eye for a moment too long, and Jacinda's mouth opened to show the tip of her tongue dancing back and forth behind her teeth. We were attending a party for a work colleague's birthday in a couple of hours, and she was getting changed at my place.
I gave her a knowing smile and pushed the button for my floor. The lift took us swiftly up, and a few minutes later, I opened my front door wide to let in Jacinda. Tonight was the night that I would seduce Jacinda, to see her gloriously nude, spread...
...to read the rest of this story please login or
register
to read the full story free.
Read all about the wonderful author: Olivia Purley