HOT WET SEX - Film
Wet sex as couple enjoy sensual fuck in the shower
Comment
Here is a beautiful slow and softly sensual lovers' film about the pleasure of wet sex. It features a couple, Edward and Gisha enjoying the leisurely, intimate indulgence of getting naked and wet together. There's no rush, but why rush such simple, earthy pleasures as fucking your lover.
It's clear when watching the sexy film why shower sex is still one of those places couples consider as a top alternative location to get it on. It's easy to see why with this erotic movie. Seeing and enjoying looking at each other get naked and wet in the shower is such a turn on. It brings openness and simplicity to the pure pleasure of touch and close body contact in a more confined space. Skins become moist and slippery. Cleaned and glistening to touch, lick, caress and feel. The air becomes steamy with heat from the trailing water, and ideally also ensuring bodies are kept warm while naked and exposed.
Edward and Gisha self indulge in the refreshing sensation of the water flowing over their bodies. Revitalizing and refreshing it serves as an extra seductive stimulus as it coats and moisturizes their skins.
Edward with the lovely redheaded Gisha, having explored each other's bodies enjoy a gentle, meaningful fuck. This erotic sex movie falls more into the soft porn camp of tender sex, more the delicate sexual nature of lovemaking. No shower wet sex scene would be complete without some horny oral intercourse, a loving sexy wet blowjob which Gisha enjoys giving her sexy lover.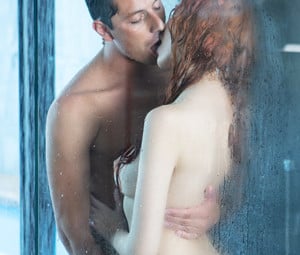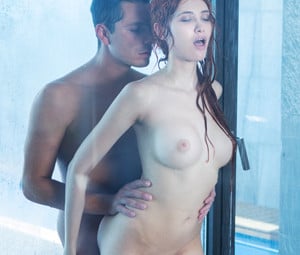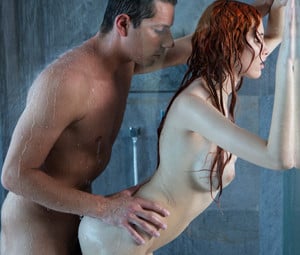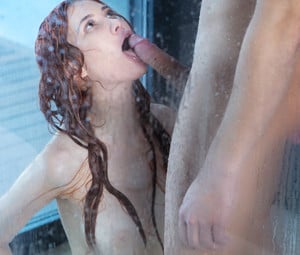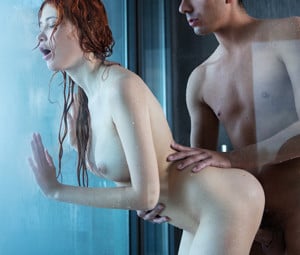 Other Films you may enjoy
Below is a selection of recently updated films and stories, just click on the image to view in greater detail